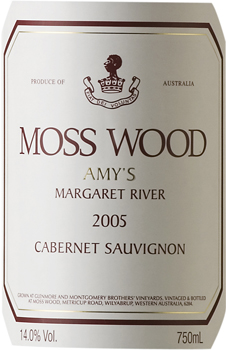 Wine Facts
| | |
| --- | --- |
| Harvested: | 31/3/2005 |
| Bottled: | 28/7/2006 |
| Released: | 19/10/2006 |
| Alcohol: | 14.00% |
| Vintage Rating: | 10/10 |
| | |
SOLD OUT
---
Tasting Notes
The wine has deep brick red colour and is in bright condition. On the nose, the Glenmore contributes its usual fruit aromas of blueberry and plum and Montgomery Brothers is all raspberries and violets. They combine to produce classic Cabernet Sauvignon aromas with a soft oak background. The themeof bright fruit characters continues on the palate, where the wine has vibrant blueberry and mulberry flavours, full body, good length and a firm tannin finish.
The Sunday Times review November 2006
The Gourmet Traveller WINE review February 2007
The Courier Mail review September 2007
Vintage Notes
This is the first of our 2005 Cabernet-based wines to be released and it carries the quality hallmark of the vintage. It was an excellent growing season for the variety although marred ever so slightly by some late rain. Fortunately, neither the Glenmore nor Montgomery Brothers vineyard was affected, and both produced fruit of excellent quality. Although they are relatively young, it would not be going too far to suggest that this is the best vintage either has produced.
Production Notes
When a vintage is this good, the responsibility of the winery is to get the wine safely through the production process without compromising the quality and the winemaking crew delivered. The production technique was varied slightly in that the fruit was destemmed into both open and closed fermenters. Each batch was seeded with pure yeast culture and fermentation proceeded, with plunging or gentle pumpover 3 times per day. Temperatures were set at a maximum of 30C. Pressing took place after 3 or 4 days, depending on the batch but it is important to note this wine spends less time on skins than either the Ribbon Vale or Moss Wood wines. The reason is that we seek to preserve the freshest fruit characters and are not looking for bigger and complex tannins. After pressing, the wine is racked to barrel, where it spent 14 months. Again there is a difference in style compared with its two siblings. We use only 25% new oak and less time in barrel to further retain fresh fruit notes. From barrel, the wine was racked to stainless steel and fining trials were carried out, although in the end no fining was needed. The wine was then sterile filtered and bottled on 29th July 2006.
Cellaring Notes
It is quite drinkable now with its plump fruit flavours and we encourage people to enjoy it as a youngster. However, it has the chemistry and structure to repay time in the cellar and we suggest 5 to 7 years.