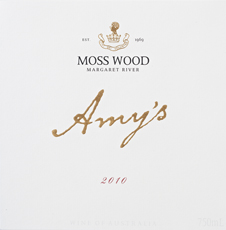 Wine Facts
| | |
| --- | --- |
| Harvested: | 8/4/2010 |
| Bottled: | 18/7/2011 |
| Released: | 30/8/2011 |
| Baume: | 13.40 t/ha |
| Alcohol: | 14.00% |
| Vintage Rating: | 10/10 |
| | |
SOLD OUT
---
Tasting Notes
Colour and condition:
Deep brick red, in bright condition.
Nose:
The wine immediately displays lifted scents of mulberry, blueberry, dark jubes, violets, menthol and cedar. It really stands out in the glass. In the background there are leather and earthy notes.
Palate:
Here the impression is of plump, soft dark fruit flavours – black currant, dark jubes and mulberry. There is full body and texture is smooth, even with a firm tannin structure.
[hr]
Vintage Notes
Discussion of vintage quality for 2010 presents something of a dilemma. Over the years, it has become something of a wine industry marketing joke that every vintage is a great vintage. At Moss Wood we have tried to develop a reputation for being as honest and objective as possible about the quality of all the vintages and how this has influenced wine styles. This means, of course, we hope it can be taken at face value when, once again, we sing the praises of yet another very high quality vintage.
Looking back over our history, we believe 2010 shares some commonality with 1991 and could be the best overall season that Margaret River has had, with above average crops and consistent and even warmth ripen them. We had regular, indeed often heavy, rain during Spring which fortunately didn't interrupt flowering and allowed the vines to set and then successfully carry the large crops. The exception was Merlot, whose flowering coincided with some significant rain events and around the region, its crops were affected to some degree. However, on balance, it was a bountiful harvest.
At the same time, consistent warmth allowed full ripeness of sugar, flavour and tannin, allowing us to make wines with strong varietal fruit characters and inherent balance. We have very high hopes for quality.
[hr]
Production Notes
Median Harvest Dates and Ripeness:
Montgomery Brothers Malbec – 10th March, 2010; 13° Baume Glenmore Malbec – 10th March, 2010; 13.7° Baume Glenmore Merlot – 22nd March, 2010; 12.6° Baume Montgomery Brothers Cabernet Sauvignon – 28th March, 2010; 13.4° Baume Glenmore Cabernet Sauvignon – 8th April, 2010; 13.4° Baume Glenmore Petit Verdot – 12th April, 2010; 13.2° Baume Bantry Bay Petit Verdot – 13th April, 2010; 13.8° Baume Montgomery Brothers Petit Verdot – 16th April, 2010; 12.3° Baume
The Glenmore and Montgomery Brothers vineyards were both handpicked. However, we decided on a change of plan with the Bantry Bay Petit Verdot. This vineyard supplies to a number of wineries and the only company to hand harvest there is Moss Wood. We intended to continue this until a large rain-bearing weather pattern caused a re-think. We didn't have enough pickers to get the fruit in ahead of the rain so decided to use the situation to trial machine harvesting. The machine picked in 2 hours what would have taken our team 12 and it picked through the night, ahead of the rain, so the fruit arrived without dilution. This part of the experiment was a success but unfortunately, we had to spend a large amount of time picking out material other than grape, because there were a huge number of leaf stems and other woody parts of the vine in the bins. We won't be repeating the experiment for a while. Once at the winery the fruit was destemmed into a combination of small, open fermenters and large, static fermenters. In the former, extraction was by hand plunging 4 times per day and in the latter, each batch was pumped over 3 times per day.
The skin contact time was managed according to taste and pressing was done when each batch had the best tannin balance. The various different batches spent between 10 and 20 days on skins. After pressing, each batch was allowed to settle in stainless steel tank before being racked off gross lees and undergoing malolactic fermentation. After this was completed, all the various batches were blended and the final blend was returned to barrel. The final blend consisted of 50% Cabernet Sauvignon, 32% Petit Verdot, 12% Malbec and 5% Merlot.
Since our aim with this wine is to preserve the primary fruit characters, it spends only slightly longer than one year in barrel. The 2010 was racked and blended on 2nd July, 2011, fining trials were carried out and it was decided to treat the wine with egg whites. Once this was done, the wine was sterile filtered and bottled on 18th July, 2011.
[hr]
Cellaring Notes
This wine is made with the intention of capturing the best of its youthful fruit characters so that it provides attractive early drinking. Hence, we recommend it for early drinking. However, the fruit depth and composition are such that it will develop additional complexity and softness over the next 5 years.