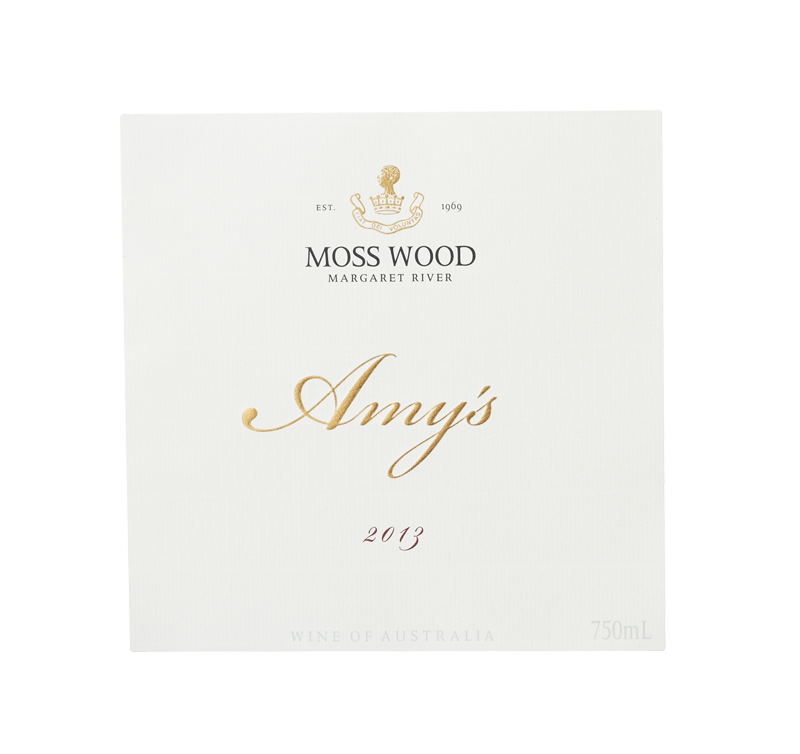 Wine Facts
Harvested:
Cabernet Sauvignon 04/04/2013
Malbec 04/04/2013
Merlot 22/03/2013
Bottled:
08/10/2014
Released:
20/11/2014
Baume:
Cabernet Sauvignon 13.5
Malbec 14.2
Merlot 13.8
Alcohol:
14.00%
SOLD OUT
Tasting Notes
Colour and condition:
Very deep brick red hue; bright condition.
Nose: Excellent combination of red and black fruits – red currants, mulberries, black berries and plums.  Despite the presence of all this fruit there is a background of spice, leather and even musk.
Palate: Straight away there is a spread of mulberry and blueberry fruit flavour, long round and generous, so much so that the tannins sit quietly underneath, waiting for the aging process to reveal them.  The vintage was such that we didn't make very much of this wine but boy, it's a gem.  The best we've made, by some margin.
Moss Wood 2013 Amy's – Josh Raynolds – Vinous.com
Moss Wood 2013 Amy's – James Halliday, The Wine Companion
Moss Wood 2013 Amy's – Ray Jordan top 100 reds 2015
Moss Wood 2013 Amy's – Courier Mail, Brisbane – Mike Frost
Moss Wood 2013 Amy's – John Saker – Timaru Herald
Moss Wood 2013 Amy's – Gary Walsh, The Wine Front
Production Notes
Harvest Dates:
Cabernet Sauvignon – 4th April, 2013
Malbec – 4th April, 2013
Merlot – 22nd March, 2013
Harvest Ripeness:
Cabernet Sauvignon – 13.5⁰ Baume
Malbec – 14.2⁰ Baume
Merlot – 13.8⁰ Baume
Each variety was destemmed and then pumped into closed stainless steel tank for fermentation.  Extraction was pumping over, 3 times per day and skin contact was for an average time of 14 days.  After pressing, each batch was allowed to settle on gross lees and was seeded for malolactic fermentation.  Once this was completed, the wines were blended and then racked into wood in May 2013.  All the barrels were 225 litres French oak, none of which was new.
After 16 months oak aging, in September 2014 all barrels were racked and blended in stainless steel and the wine was prepared for bottling.  Fining trials were carried out and it was decided an egg white fining was beneficial in improving tannin balance.
Finally, the wine was sterile filtered and bottled on 8th October, 2014.
Cellaring Notes
For a company that makes two Cabernet Sauvignon wines for cellaring, it might make sense when we say that we prefer customers to see Amy's as a wine for early drinking.  We specifically make to have early appeal.  However, the 2013 is a classic and will certainly improve with 10 to 15 years cellaring – if you can keep your hands off it.