Moss Wood 1998 Glenmore Vineyard Cabernet Sauvignon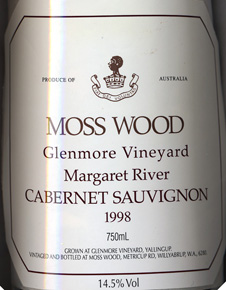 Wine Facts
| | |
| --- | --- |
| Harvested: | 27/3/1998 |
| Bottled: | 19/7/1999 |
| Released: | 8/10/1999 |
| Alcohol: | 14.50% |
| | |
| | |
| | |
SOLD OUT
---
Tasting Notes
The Moss Wood 1998 Glenmore Vineyard Cabernet Sauvignon has a bright, brick red colour and delightful perfumes of blueberries and red cherries with hints of cinnamon and dusty oak. On the palate, the flavours are those of dark cherries, dark plums, blueberries and five spice while the texture is soft and smooth. The finish, however, is dominated by powerful and firm, though fine, tannins. This is a vibrant, fresh young wine that has good varietal definition and finesse. It will soften and become more approachable with two to three years bottle age.
The wine has the fruit definition and weight to be a good example of cabernet from the Yallingup area. Although reserving the right to be cautious, we are pleased with its balance and chemistry.
Vintage Notes
This is the second commercial vintage of cabernet sauvignon from Vineyard Manager, Ian Bell's Glenmore Vineyard. The 1997 vintage was difficult for the Yallingup property as it suffered significantly because of rain and the grapes didn't ripen as much as Ian had hoped. In 1998, the grapes had just ripened as the rains came and picking was finished in a gentle mist. To Ian's relief, these showers caused only minor inconvenience but had no influence on the quality of the grapes. At Glenmore, the aim is to get 13.5% alcohol, similar to Moss Wood. This ripeness is even more important to the Yallingup wine which tends to have a finer texture and more delicate fruit flavours on the palate.
Production Notes
The wine is made using the same method as for the Moss Wood Cabernet. It is crushed into open fermenters, seeded with pure yeast culture and fermented at warm temperatures. During fermentation, it is plunged four times a day. As you would expect, a wine like this was given deluxe treatment at Moss Wood. With the 1998 Glenmore almost every plunging was carried out by the grape grower and "expectant father", Ian "Tinker" Bell. After 12 days on skins, it was pressed, then settled in stainless steel for four days before being racked into barrels.
The Glenmore Cabernet was given 12 months in French oak, a quarter of which was new. This takes into account the youth of the vines. Certainly Keith believes that until one gets the feel for the fruit characters of a new vineyard it is better to err on the side of using too little rather than too much new oak. The maturation period was finished in June and so the wine was fined with one egg white per barrel, went through a coarse filtration and was bottled. Remarkably, Tinker Bell entrusted the final stage of production to the remaining Moss Wood team so that his long service leave was uninterrupted.
Cellaring Notes
We expect it to cellar well for at least five to ten years.