1983 Moss Wood Cabernet Sauvignon Reserve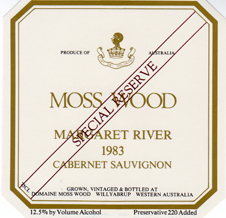 Wine Facts
| | |
| --- | --- |
| Harvested: | 6/3/1983 |
| Bottled: | 26/8/1987 |
| Released: | 8/7/1988 |
| Yield: | 9.00 t/ha |
| Baume: | 13.00 |
| Alcohol: | xx.xx% |
| Vintage Rating: | 9/10 |
---
Tasting Notes
The 1983 Moss Wood Cabernet Sauvignon Special Reserve shows big, developed fruit characters on the nose with aromas of mulberries and chocolates (the latter from the bottle aging) as well as the spicy, smokey characters of old oak. On the palate, it is surprisingly soft, has very good acid, mouth filling flavour, a rich, round structure and big tannins.
At present, the bouquet is outstanding and, although the wine is drinking quite well at the moment, it is a little closed on the palate. This is only the second reserve wine produced at Moss Wood in its sixteen year history. The other was the Montgomery Trophy winning 1980 Moss Wood Cabernet Special Reserve which some critics believe to be the best wine produced in Western Australia. In Keith Mugford's opinion, these are the two wines which Moss Wood have produced with the class to justify the extra oak treatment.
Vintage Notes
Although the 1982-3 growing season was not excessively hot, it was consistently warm, and so the fruit ripened consistently and quickly. This resulted in tremendous, rich, ripe fruit, with mulberry or chocolatey overtones, and a big tannin structure.
Production Notes
A section of the 1983 Cabernet wine was placed in barrel for a further eighteen months, a total of two and a half years in old French oak. These barrels were used so that the wine would pick up the lovely, developing characters of old oak without being excessively dominated by them.
Cellaring Notes
It will benefit from five years cellaring during which time the tannins will soften and the palate will open out to reveal all of the complex characters that the bouquet at present reveals.