Moss Wood 1991 Cabernet Sauvignon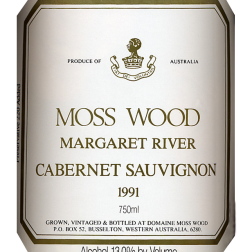 Wine Facts
| | |
| --- | --- |
| Harvested: | 2/4/1991 |
| Bottled: | 26/11/1992 |
| Released: | 7/7/1993 |
| Yield: | 9.80 t/ha |
| Baume: | 13.30 |
| Alcohol: | 13.00% |
| Vintage Rating: | 9/10 |
SOLD OUT
---
Tasting Notes
Very impressive with lively spice, cherry, mulberry and cedary oak flavours with chocolatey overtones; soft, extremely dense, intense, opulent tending towards lush, velvety texture. The palate is supple and round with fresh, rich, characters which are well integrated with charry oak. A big, powerful red with generous flavours, a tight structure and the weight to improve further with bottle development.
The differences between the 1980 and the 1991 cabernets shows an evolution or a refinement of a style, with the latter having greater elegance and finesse.
Vintage Notes
The 1991 vintage was notable for the ease with which it progressed. Spring flowering conditions were excellent and we avoided the storm damage. With only minimal Redgum blossom in the trees the birds did serious damage to the grapes. This was in the days when we had no nets for protection and so the losses were in the order of 10%.
In the early stages, the reds looked quite good, although there was nothing to suggest that it would be a great year. However, once the wines were put into barrel, they began to show terrific fruit characters and they have maintained this ever since.
Production Notes
Moss Wood Cabernet is fermented in stainless steel and is allowed to remain on its gross lees while it undergoes malolactic fermentation. Stainless steel provides greater control over the wine at this crucial stage in its development. At nine months the wine is placed in oak barrels, half of which are new, and there it stays for twelve months.
Cellaring Notes
It will improve over the next five years and keep for much longer.