Moss Wood 1994 Cabernet Sauvignon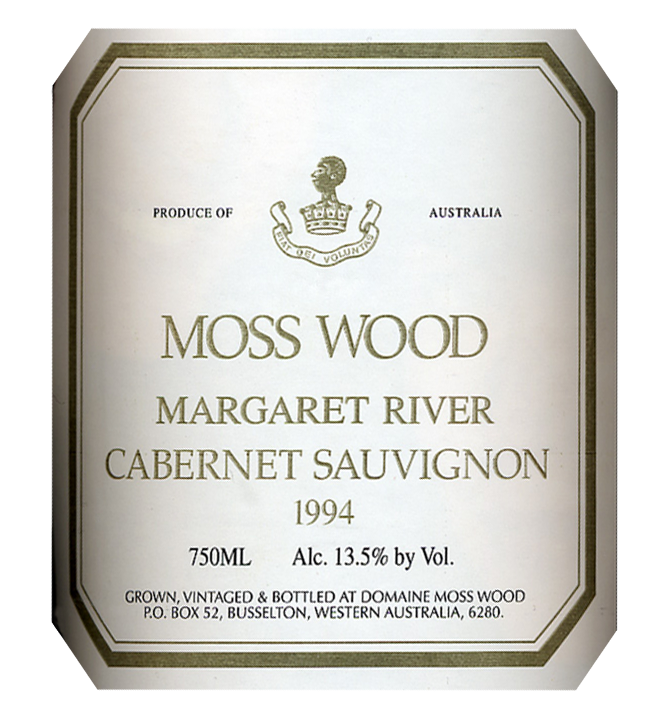 Wine Facts
| | |
| --- | --- |
| Harvested: | 24/3/1994 |
| Bottled: | 31/12/1994 |
| Released: | 23/7/1996 |
| Yield: | 8.89 t/ha |
| Baume: | 12.80 |
| Alcohol: | 13.50% |
| Vintage Rating: | 8/10 |
SOLD OUT
---
Tasting Notes
The wine has lifted ripe, mulberry, blackcurrant and cedary oak aromas while on the palate it is initially soft and generous with impressive weight, intense cassis flavours with lightly earthy overtones, big but supple and well-balanced tannins on a long, lingering aftertaste. It is was surprisingly approachable on release and could be enjoyed for its intense fruitiness and power. We believe it will eventually be ranked with the 1991, 1990, 1985, 1983, 1980, 1976 and 1975 wines.
Moss Wood 1994 Cabernet Sauvignon – eRobertParker Wine Advocate #115 Feb 1998 – Robert M. Parker, Jr
Vintage Notes
The 1994 vintage at Moss Wood produced a crop that was ever so slightly larger than average. The growing season had been particularly good with consistently mild weather in the months before February which was quite warm and ripened the Cabernet nicely. Picking of this variety started on time on 18th March (at 12.7  beaume) and finished on 14th April (at 13.7  beaume) giving the wine an alcoholic content of 13.8%. Picking can be a juggling act at Moss Wood between the competing demands of finding space in the winery and beating the marauding birds. Prior to 1994, the old block had been the last area pruned each year and, because of its south-east aspect, it had been the slowest to ripen. An experiment to prune this Cabernet block first during the preceding winter enabled the grapes to ripen earlier than usual, before the birds did any damage. The later pruned sections, more isolated from the birds, ripening later and with less damage, allowed us to make more of the precious Cabernet. It is such a pleasure not to waste it on birds. This same action produced similar results for 1995 and 1996.
Production Notes
The 1994 has maintained good colour since early in the fermentation process. The wine was left in contact with its skins for nine days during which time it was hand plunged three or four times a day. All pressings were included in the blend which was aged in 55% new French oak for a year. After this it was given a light, egg-white fining, then filtered and bottled.
We like the wine very much and are particularly taken by its ripe, generous characters and the way the oak sits softly under the powerful fruit.
Cellaring Notes
Like all Moss Wood Cabernets, it will improve over the next seven years and can be cellared for between ten and fifteen years.