Moss Wood 1988 Cabernet Sauvignon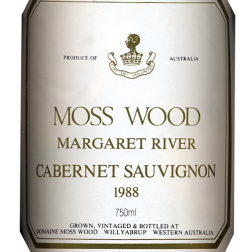 Wine Facts
| | |
| --- | --- |
| Harvested: | 09/03/1988 |
| Bottled: | 30/06/1998 |
| Released: | 30/06/1990 |
| Baume: | 13.00 |
| Alcohol: | 12.90% |
| Vintage Rating: | 06/10 |
SOLD OUT
---
Tasting Notes
Intense, ripe, mulberry aromas on the nose with nuances of violets and dusty French oak. It is a fresh, supple wine with good acid, rich, concentrated berry fruit in balance with strong tannins and a pleasant finish which lingers.
Vintage Notes
A topsy turvy growing season, similar to that experienced at Moss Wood in 1984/5, not surprisingly, produced a wine which is similar to the 1985 Cabernet - although it has more tannin and acid and hence more spine than the '85.
The Cabernet yield was reduced to about two-thirds of the normal crop because the much needed spring rain of 1987 led to an indifferent flowering which reduced the size of the bunches. The quality, however, was very good - at least up to the standard of the 1985 wine.  The 1988 is different from other vintages in at least two ways rail the wines have interesting fragrances and the Cabernet has a pleasant tarry quality.
Production Notes
Thirty five percent of the wine was given twelve months in new oak and this has integrated well in the finished wine giving it a pleasing degree of complexity. It also has a distinctive character which English wine merchant, Simon Taylor-Gill, described as 'roasted' and Keith sees as reminiscient of 'coffee beans'. This attractive, tarry characteristic is a product of the particular vintage.
Cellaring Notes
The 1988 Cabernet has the structure and the fruit to benefit from cellaring for ten to fifteen years.