Moss Wood 2000 Cabernet Sauvignon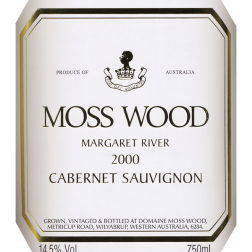 Wine Facts
| | |
| --- | --- |
| Harvested: | 27/3/2000 |
| Bottled: | 5/8/2002 |
| Released: | 30/6/2003 |
| Yield: | 10.00 t/ha |
| Baume: | 14.00 |
| Alcohol: | 14.50% |
| Vintage Rating: | 10/10 |
SOLD OUT
---
Tasting Notes
The Moss Wood 2000 Cabernet Sauvignon is wonderfully fragrant with redcurrant, spice and cedary oak perfumes; is soft, round and velvety textured; has ripe, rich and concentrated sweet cassis, mulberry and cedar flavours and a lovely fleshy finish. This is an elegant wine that has the tightness of structure, impressive weight, bold vibrant characters, and restrained, fine, silky tannins to ensure that it ages well, while having an approachability and a suppleness to make it appealing when young.
Moss Wood 2000 Cabernet Sauvignon - Huon Hooke, huonhooke.com
Moss Wood 2000 Cabernet Sauvignon - Winestate
Moss Wood 2000 Cabernet Sauvignon - Decanter
Moss Wood 2000 Cabernet Sauvignon – eRobertParker Wine Advocate #148 Aug 2003 – Robert M. Parker, Jr
Vintage Notes
There was a good growing season for the 2000 vintage in Margaret River. It started with mild to warm conditions up to Christmas, the hottest day of the year on New Year's Eve, and a January that was not as hot as December had been. There was significant rainfall in the third week of January which the vines soaked up and so remained stress free until harvest. Although the rain did cause downy mildew in some local vineyards, Moss Wood was not affected. One direct consequence of the downpour was that crop levels were higher than expected. The 2000 Semillon is one of the best ever, and we believe that the same is true of the Cabernet.
We see the 2000 as being closest in character to the 1980 and the 1990 Cabernets and, in some ways, a combination of the two. There were differences from the earlier vintages. There was more rainfall during the 1990 growing season. Although there was a similar amount in 1980, it came later. In all three cases, we see the wines as soft and fruity with generous flavours and gentle, fine tannins.
Production Notes
The new machine, the Delta E2 Destemmer, involves no crushing of the grapes. It destems the berries and transfers them whole, plus some juice, by conveyor belt into the fermentation tanks. The destemming means that a minimal amount of tannin is extracted. Given the 28 year difference in their age and the fact that the Delta E2 is made of stainless steel, it is scarcely surprising that the new machine is much easier to clean and so already well loved by winery staff.
The other major difference with the 2000 wine is that it was the second - and last - Moss Wood Cabernet Sauvignon in which fermentation was triggered spontaneously by strains of wild yeast.
Apart from that, production followed the traditional Moss Wood approach. Fermentation took place at warm temperatures - up to 32° Celcius. During the process, hand plunging took place four times a day. Each batch was left on skins after fermentation for between 10 and 14 days, depending on taste. After that, it was pressed and placed into barrel (50% new oak) for two years. All pressings were included in the finished wine. It was taken out of oak in July 2002, and filtered (but not fined) and bottled in August.
It was the first Moss Wood wine to be bottled partially under Stelvin (screw caps) ensuring that those bottles are not affected by cork taint. We are committed to bottling more and more using Stelvin caps. We plan to move from 200 cases of the 2000 Cabernet to 1,500 cases for the 2001. With the current vintage, Stelvin will be used for comparative tastings to show its value as a closure.