Moss Wood 1994 Cabernet Sauvignon Reserve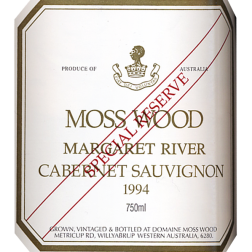 | | |
| --- | --- |
| Harvested: | 24/3/1994 |
| Bottled: | 9/1/1997 |
| Released: | 12/7/1998 |
| Yield: | 8.89 t/ha |
| Baume: | 12.80 |
| Alcohol: | 13.50% |
| Vintage Rating: | 9/10 |
---
Tasting Notes
Colour is deep brick red, with good depth. On the nose the wine shows subtle perfumed aromas of redcurrant, raspberry and violets with hints of cedary oak and cigar box aromas. There is some oak showing as well, quite toasty but not too dominant. The wine is also beginning to exhibit some tarry and cigar box overtones, most likely a product of its 26 month barrel ageing.
The palate is quite a complex mixture, initially soft with, 'fruits of the forest' flavours, especially mulberry and red currant, some chocolatey flavours and substantial, ripe tannins, which have good length, making the wine linger in the mouth. The tobacco and tar and oak characters complete the finish. The structure is firm, with good acid and tannin but the wine shows the inherent softness and seamless integration of fruit and toasty oak of the traditional vineyard style.
We believe that it is similar in style to the 1983, one of the long term favourites from the vineyard. We don't believe that it will eclipse the 1995 or 1996 but it will be highly thought of. This is the last year a Special Reserve Cabernet Sauvignon was released.
Vintage Notes
The 1994 harvest was much better for reds than whites at Moss Wood. The warmth of the period leading up to vintage produced whites which were ripe, strong and tannic and lacking in the delicate aromatics that are associated with great white wine years like 1996 and 1993. In the reds, however, this warm growing season encouraged ripe fruit flavours, plenty of alcohol, great texture and ripe tannins. It is scarcely surprising that 1994 was chosen as a reserve year.
Production Notes
The decision to make a Reserve was not made until assemblage, the time when the final cabernet blend is made. The 1994 Moss Wood Cabernet was aged in new (55%), one and two year old oak for twelve months. At the end of that time, the wine was pumped from barrels into stainless steel blending tanks. Having seen the finished wine, we confirmed that it was suitable for producing a Reserve and so the ten best three-year-old barrels were set aside and filled with the 1994 Cabernet for extended oak ageing. These barrels were chosen so that they would give barrel aged complexity rather than oak character to the wine. The 1994 Special Reserve was given an extra 14 months in barrel, was bottled in January 1997 and allowed another 18 months to settle before release.
Cellaring Notes
It is a very good cellaring prospect, with 15 years being the recommendation.