Moss Wood 1992 Cabernet Sauvignon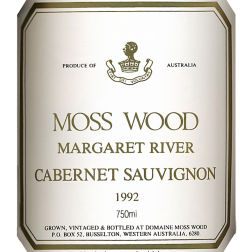 Wine Facts
| | |
| --- | --- |
| Harvested: | 25/3/1992 |
| Bottled: | 22/9/1993 |
| Released: | 14/7/1994 |
| Yield: | 10.00 t/ha |
| Baume: | 12.80 |
| Alcohol: | 12.50% |
| Vintage Rating: | 7/10 |
SOLD OUT
---
Tasting Notes
The 1992 Moss Wood Cabernet Sauvignon has lifted, redcurrant and spicy oak characters with a hint of cinnamon, long rich, mulberry flavours, some earthiness and well-integrated, soft tannins. The wine has a lively mouth feel, complexity, fresh acidity and some smokey oak on the finish.
Although not as round, generous or intense as the outstanding 1990 and 1991 vintages, it is soft, has good length, some complexity and attractive, mulberry flavours on the palate. We like the wine but believe that it will get better with age and will rate more highly than it does now, as has happened with the 1984 and 1989 Cabernets. Incidentally, we see it as more intense and concentrated than either of those two wines. As well as this, we believe that Moss Wood has benefited from the experience of difficult years such as 1989 and 1982 and is now better equipped to pick riper grapes in vintages like those. Most importantly, the vineyard is showing the value of twenty year old vines.
Moss Wood 1992 Cabernet Sauvignon - Decanter
The 1992 Cabernet was awarded a gold medal at the 1994 International Wine Challenge conducted by the British magazine, Wine.
Vintage Notes
The 1992 vintage for cabernet sauvignon at Moss Wood was unusual in that it was a harvest in two halves. Picking of the Cabernet Franc began on March 12 and was followed by heavy downpours for a week during which 75 millimetres of rain fell. After this, there was a break for a week and then the first of the Cabernet Sauvignon was picked. Further rain halted the harvesting and there was another week's break before picking could commence once again.
Fear that the Cabernet would suffer proved groundless and, in spite of the unusually heavy rainfall during vintage, the vines had no problems achieving full ripeness. Our patience was rewarded and this wine has the richness of structure that consumers have come to expect from Moss Wood Cabernets.
Cellaring Notes
As with most young Cabernets from the vineyard, there is sufficient fruit for the wine to be enjoyed before five years of age, although it will be at its best after ten years cellaring.