1991 Moss Wood Cabernet Sauvignon Reserve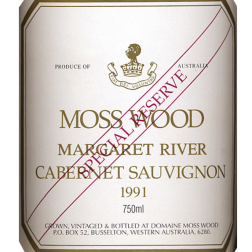 Wine Facts
| | |
| --- | --- |
| Harvested: | 24/3/1991 |
| Bottled: | 16/11/1993 |
| Released: | 8/3/1995 |
| Yield: | 10.29 t/ha |
| Baume: | 12.80 |
| Alcohol: | xx.xx% |
| Vintage Rating: | 9/10 |
Tasting Notes
The 1991 Moss Wood Cabernet Sauvignon Special Reserve has a deep crimson colour and an intense nose with ripe mulberries, blackcurrants with hints of earthiness and cedary oak. The palate has long, complex flavours with excellent integration of fruit and oak and huge, fine grain tannins. While initially supple, round and generous, it has a texture that hints at silkiness, is vibrant, rich and concentrated yet has a tight, firm structure and great underlying power.
The reserve wines at Moss Wood came into being as an experiment. Because of the quality of the cabernet from the 1980 vintage, it was decided to see what impact longer barrel aging would have on the wine. As the aim was not to give additional oak character, but to alter the wine by giving it long barrel development, the extra year was spent in three year old oak. At the end of that time, six barrels of Special Reserve were bottled and then aged for another year before release. The success of that wine, the winner of the Montgomery Trophy at the Adelaide Show, ensured that the experiment would be repeated whenever the quality warranted it.
Vintage Notes
The 1991 'Special Reserve' Cabernet growing season was reasonably typical of the region, although drier than in some years with very mild temperatures and only a few hot days during summer. Overall, it was similar to 1987 and 1979, both of which produced top quality wines. With time, the vintage has been upgraded and is now regarded as among the best or the best ever for the Margaret River region.
Production Notes
Moss Wood Cabernet is fermented in stainless steel and is allowed to remain on its gross lees while it undergoes malolactic fermentation. Stainless steel provides greater control over the wine at this crucial stage in its development. At nine months the wine is placed in oak barrels, half of which are new, and there it stays for twelve months. After this time, the normal wine is bottled while the Special Reserve selection is returned to barrels to complete its final year of wood maturation.
The Special Reserve is interfered with as little as possible; and is rarely fined and is given only a light filtration, so that it won't throw too much crust.
Cellaring Notes
It is built for the long term and will only begin to show its best after a decade in bottle.