Moss Wood 2010 Cabernet Sauvignon
---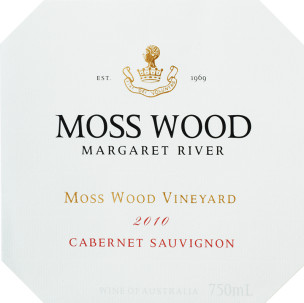 Wine Facts
| | |
| --- | --- |
| Harvested: | 28/03/2010 |
| Bottled: | 15/10/2012 |
| Released: | 28/3/2013 |
| Yield: |  8.26 t/ha |
| Baume: | 13.40 |
| Alcohol: | 14.00% |
| Vintage Rating: | 10/10 |
SOLD OUT
Tasting Notes
Colour and condition: Deep brick red, in bright condition.
Nose: A complex and powerful combination. The nature of the vintage is such that the fruit aromas are clear and dominant, showing violets, blueberries and red currants. However, in these types of years the depth of the nose is enhanced by background complex notes like tar, leather and chocolate. The lengthy barrel aging has enhanced these but the actual oak characters are spicy and toasty and don't dominate.
Palate: In similar vein to the nose, this shows all the classic Moss Wood features associated with our very finest years. The fruit flavours of red currant and mulberry provide an initial rich, sweet front and mid-palate. The acidity provides good lift and makes the flavours bright. Tannin impact is very evident but not because the wine is firm. Rather, the phenolics are concentrated and build the mouthfeel without affecting the texture, such that the wine is smooth and long. On the finish the oak provides toasty and coffee bean flavours and some tannin for gentle grip.

---
Vintage Notes
At the risk of sounding boring, we begin our commentary on the 2010 Moss Wood Cabernet Sauvignon with the observation that we have yet again been blessed with another fantastic season. This run of very good years since 2007 is without precedent and not something we've come to expect in the risky business of agriculture. The key to the quality of these seasons appears to have been warm summers with minimal extreme heat, in conjunction with appropriate levels of rain, falling at the right times.
In 2010 things began well, as Spring 2009 proved consistently mild, with regular rainfall but no severe storms. Flowering conditions were good for all varieties except Cabernet Franc because it had just been going for about a week when we had a spectacular thunderstorm on 18th November that shook the windows of the Mugford house. We can count ourselves lucky because although it rained, any hail associated with the system went around us. Cabernet Sauvignon and Petit Verdot were only just beginning when all this took place, so they missed the worst of it. The yield figures reflect what happened. Cabernet Sauvignon was up by 9% to 8.26 tonnes per hectare, Petit Verdot was up 8% at 6.62 tonnes per hectare but Cabernet Franc was down 17% at 5.36 tonnes per hectare.
We can see an interesting quality feature in the yield data. For example, although Cabernet Sauvignon was above average, the actual bunch weights were down by around 15%. This suggests the higher yield was driven by more but smaller bunches on the vines, with a commensurate increase in concentration of colour and flavour in the finished wine associated with small berries.
As we moved into summer, the temperatures gradually went up but we missed out on extremes. January 2010 was very comfortable with maxima consistently in the high 20's although we did experience our hottest day of the season on 17th January when the mercury topped out at 39⁰C. These mild to warm conditions continued into February, right up to the beginning of the harvest when on 24th we began a week of weather where the maxima were all around 36⁰C. This brought the Pinot Noir on quite quickly and the other early varieties followed suit when we had another run of warm days beginning on the 7th March where the maxima were all around 34⁰C. After this, the weather became increasingly mild, giving near ideal conditions for finishing, although we were determined to get everything picked by the end of the first week of April as a large rain event loomed. This proved to be a wise strategy because this system eventually dumped 75mm rain, starting on 12th April.
The positive aspects of these seasonal conditions can be seen in the following way. In the period from flowering to harvest, Cabernet Sauvignon received 1025 daylight hours in the ideal range for photosynthesis (18-28⁰C). To successfully ripen an average crop, it needs around 850 hours. Furthermore, experience tells us that mature fruit flavours require at least 30 hours above 33⁰C but preferably 50 hours and in 2010, we received 55 hours. Altogether we can conclude Cabernet Sauvignon had conditions very much in its favour. This is reinforced by the fact that on average it takes the variety 118 days from flowering to get to full ripeness but in 2010, it did so in 108 days, despite the crop being 9% above average. Interestingly, this is not clear from the median harvest dates for each of the varieties. Cabernet Sauvignon was picked on 28th March, one day later than its long term average of 27th March. Cabernet Franc was picked on 5th March, exactly on average and Petit Verdot was 6 days later than average on 11th April. All this shows that our cooler, damp conditions in Spring led to a about one week's delay with the flowering i.e. those dates were slightly later than average.
We think all this conjures up an image of the grapes as plump human beings, basking in plentiful sunshine but without getting burnt. Quite pleasant really! Each of the varieties achieved flavour ripeness at very close to long term averages. Cabernet Sauvignon came in at 13.4 Baume, compared to its long term average of 13.2; Petit Verdot came in at 13.1, slightly lower than its 13.3 average; Cabernet Franc was similar, picked at 12.5 and slightly below the average of 12.9.
Of other issues affecting quality, we can report that despite the Spring rains mentioned earlier, our spray program controlled fungal diseases and the fruit was in sound condition. The only disappointing outcome for the year was a late attack by the birds on our "Old Block" Cabernet Sauvignon. Since the pressure from the silvereyes and parrots had been virtually non-existent, we chose not to put nets out to cover the last of the fruit. As luck would have it, the redgum blossom finished about a week too soon and the birds turned their attention to the vines. We noted their appearance in the vineyard but felt they wouldn't have time to do much harm. How wrong we were. In the end, we lost about 1000 kilograms of fruit, which in itself is not a major problem but it was all out of our favourite part of the vineyard. We won't make that mistake again!
Regardless of all this, we put 2010 down as an absolute copybook season and there are no excuses for poor wine quality.
---
Production Notes
Median Harvest Dates:
Cabernet Sauvignon – 28th March, 2010
Petit Verdot – 11th April, 2010
Cabernet Franc – 5th March, 2010
Harvest Ripeness:
Cabernet Sauvignon – 13.4 Baume
Petit Verdot – 13.1 Baume
Cabernet Franc – 12.5 Baume
All the fruit was hand-picked then delivered to the winery where it was destemmed into small, open fermenters. Each batch was seeded with pure yeast culture and fermentation was allowed to proceed at temperatures up to 28⁰C. Extraction of colour and flavour was by hand plunging at least 3 times per day. An interesting difference for the 2010 vintage was the Cabernet Sauvignon and Petit Verdot both benefited from longer than normal skin contact time. Both were on skins for 19 days, which is roughly 4 days longer than normal and this is not easy to explain. We could indulge in wild speculation as to why they took longer to reach their best tannin balance but truth be known, we really can't be sure. Perhaps it's the sign of a great year, where the fruit depth and phenolic ripeness are such that the wines can take up lots more tannin and still be well balanced. Amusingly, Cabernet Franc was very normal at 10 days on skins. Given that it was picked less ripe than usual, it may be we harvested slightly too early. Who knows? Wine is definitely as much art as science.
After pressing the batches underwent malolactic fermentation in stainless steel tanks and were then racked to barrels, the final batch going in in first week of May 2010. At the end of January 2011 all the batches were racked and blended to make up the final assemblage and this was returned to barrel. The wine was racked again in January 2012 then returned to barrel until the end of September 2012. All barrels were blended and fining trails were set up to assess tannin balance. No improvement was found using any of the fining agents, so the wine was then sterile filtered and bottled 0n 16th October, 2012.
---
Cellaring Notes
This is a delicious wine drunk now and could prove very hard to resist. However, we strongly recommend it for cellaring and believe it will continue to improve with age for at least the next 25 years. For those who are concerned this is worryingly distant, please be reassured that it will soften and improve over the next 7 years, so by the age of 10 it will have developed a complex bottle bouquet. We compare this wine to the 2001 which is just going through this age and while it predominantly retains its youthful fruit characters, it is beginning to give glimpses of its mature characters.