Moss Wood 2001 Cabernet Sauvignon
Moss Wood 2001 Cabernet Sauvignon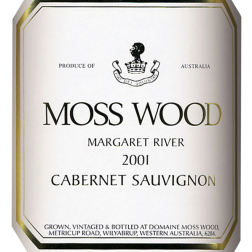 Wine Facts
| | |
| --- | --- |
| Harvested: | 18/3/2001 |
| Bottled: | 5/8/2003 |
| Released: | 30/6/2004 |
| Yield: | 9.50 t/ha |
| Baume: | 13.40 |
| Alcohol: | 14.50% |
| Vintage Rating: | 10/10 |
SOLD OUT
---
Tasting Notes
The 2001 Moss Wood Cabernet Sauvignon is arguably the greatest wine yet released from the vineyard. It has a fragrant nose of mulberries, blackberries and violets with a touch of earth and some spicy, cedary notes while the palate is deep, densely flavoured with ripe cassis and mulberry, complexed by chocolate and coffee bean characters. This is a profound, powerful red, opulent and concentrated with impressive weight showing fine, ripe tannins on a long, lingering finish. The oak and densely packed fruit are seamlessly integrated.
Moss Wood 2001 Cabernet Sauvignon – James Halliday, The West Australian
Moss Wood 2001 Cabernet Sauvignon – eRobertParker Wine Advocate #155 Oct 2004 – Robert M. Parker, Jr.
Moss Wood 2001 Cabernet Sauvignon – Jancis Robinson
Moss Wood 2001 Cabernet Sauvignon – Winestate
[hr]
Vintage Notes
It's hard to imagine two more different Moss Wood Cabernet Sauvignons than the 2000 and the 2001. The former, the most approachable of them all – supple, almost lush, deep cassis and mulberry flavours with ripe, substantial yet almost gentle tannins. Keith describes it as a "lake of flavour" while "yummy" is another descriptor that springs readily to mind. On the other hand, the 2001 is very much in the mould of the classic years of the greatest Moss Wood's: 1975, 1976, 1980, 1990, 1991, 1995, 1996 and 1999.
One of the best vintages in Margaret River was not without its problems. Early flowering meant that Moss Wood was subjected to the earliest bird damage ever and harvest began about 10 days ahead of schedule. The summer was mild and drier than usual and it proved to be a copybook growing season. There was a hot spell in February – five consecutive days in the high 30's – which sent the grape sugars up. Light rains in the second week of March slowed down ripening to the benefit of the cabernet. Keith was reminded of 1991: there were no highlights during vintage and he had no great expectations at harvest, but once the wine was in the winery it looked very good indeed.
[hr]
Production Notes
The production of the wine was routine for the team at Moss Wood. For the second vintage, the flash Delta E2 was used to destem the berries without crushing the grapes – to keep tannin extraction to a minimum. After the end of a two year experiment with wild yeast, fermentation was activated by pure yeast culture and took place at the usual warm temperatures – up to 32° Celcius. Each fermentation vat was hand plunged four times a day and the wine was left on skins for between 10 to 14 days after fermentation. As usual, the decision about how long to leave it on skins was made by tasting the wine daily.
After that, it was pressed and placed into barrel (50% new French oak, 50% two year old) for two years with all the pressings included in the finished wine. At the beginning of July 2003, it was racked into tank for assemblage and filtered (but not fined) before being bottled in August 2003 and then rested for a year before release.
Last year, Moss Wood bottled 200 cases of the 2000 Cabernet Sauvignon under screwcap to ensure that the wine is not affected by cork taint. In the newsletter, we commented that we expected that 1500 cases (or half the production) would be under screwcap with the 2001. In fact, 70% of that vintage has been sealed under the Stelvin closure.
The blend for the 2001 Moss Wood Cabernet was cabernet sauvignon (93%), cabernet franc (3%) and petit verdot (4%), which has been standard since 1997. There are such small amounts of cabernet franc and petit verdot at Moss Wood that, if good enough (and they invariably are), go into the wine as they add some pleasing complexity.
Production Manager Ian Bell, is always pushing to make a Cheval Blanc lookalike by putting aside some cabernet franc and the tiny fraction of merlot (0.3%), bunging it into new oak and selling it at an outrageous price. We have, thus far, resisted this temptation.
[hr]
Cellaring Notes
This wine is built for the long haul and, if well cellared, will improve over the next ten years and remain at its peak long after that.