Moss Wood 2012 Cabernet Sauvignon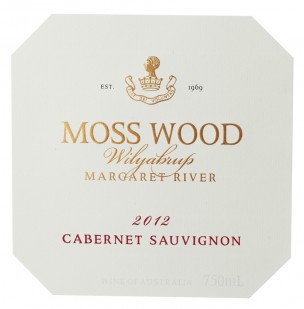 Wine Facts
Harvested:
Cabernet Sauvignon – 22nd March, 2012
Cabernet Franc – 9th March, 2012
Petit Verdot – 24th March, 2012
Bottled:
18/11/2014
Released:
 1/5/2015
Yield:
Cabernet Sauvignon – 9.2 t/ha
Cabernet Franc – 6.74 t/ha
Petit Verdot – 7.17 t/ha
Baume:
Cabernet Sauvignon – 13.80 Be
Cabernet Franc – 12.80 Be
Petit Verdot – 12.80 Be
Alcohol:
14.0%
Vintage Rating:
 10/10
SOLD OUT
---
Tasting Notes
In keeping with such a good season, the Moss Wood 2012 Cabernet Sauvignon ranks right up there with the best wines we have made and continues our dream run of quality vintages dating back to 2007.
The wine has an especially vibrant nose, with all sorts of lifted scents. There are violets, raspberries, mulberries and red currants fairly jumping out of the glass but underneath looms the classic complex notes of leather, earth, cedar and tar. Oak notes add further complexity. On the palate the theme of bright fruit notes continues. Generous mulberry and red currant flavours fill the palate and they sit over quite a firm tannin structure giving the wine good weight and length. It carries the Moss Wood hallmark of youthful balance and drinkability.
Moss Wood 2012 Cabernet Sauvignon – Jancis Robinson
Moss Wood 2012 Cabernet Sauvignon – Jim Clarke – Bloomberg Pursuits
Moss Wood 2012 Cabernet Sauvignon - Angus Hughson - Wine Genius
Moss Wood 2012 Cabernet Sauvignon – James Suckling – jamessuckling.com
Moss Wood Cabernet Sauvignon 2012 – James Halliday – Top 100 – Weekend Australian
Wood 2012 Cabernet Sauvignon – The Best of the West – Jane Faulkner for Halliday magazine October 2015
Moss Wood 2012 Cabernet Sauvignon - Andreas Larsson, World's Best Sommelier 2007 - Blind Tasted
Moss Wood 2012 Cabernet Sauvignon – Will Lyons – The Wall Street Journal
Moss Wood 2012 Cabernet Sauvignon – Peter Bourne – Australian Gourmet Traveller Wine
Moss Wood 2012 Cabernet Sauvignon - Ray Jordan - The Bottom Drawer
Moss Wood 2012 Cabernet Sauvignon – 100 BEST AUSTRALIAN WINES 2015/2016 – Matthew Jukes
Moss Wood 2012 Cabernet Sauvignon - John Lewis - Best of the Reds, Newcastle Herald
Moss Wood 2012 Cabernet Sauvignon – Campbell Mattinson – The Wine Front, April 2015
Moss Wood 2012 Cabernet Sauvignon – Josh Raynolds – Vinous.com
Vintage Notes
Climate Data
Growing Season Average Temperature: 20.58 °C
Hours accrued between 18 & 28 °C: 1025
Number of hours above 33 °C: 79
Days Elapsed Between Flowering and Harvest
Cabernet Sauvignon – 118 days
Cabernet Franc – 105 days
Petit Verdot - 120 days
No doubt about it, the 2012 growing season was excellent. Rainfall through 2011 was very slightly above average and in particular, rain through the growing season amounted to a respectable 238 mm, keeping our dry grown vines nicely watered. Luckily for us it fell at the right times so as not to disrupt flowering and yields for Cabernet Sauvignon, Cabernet Franc and Petit Verdot were all up by around 5%. Our good fortune continued with Summer temperatures warm enough to promote consistent ripening. After a hot Australia Day, where the temperature topped out at 40.8, the vines settled into nice autumnal conditions, gradually proceeding to a maturity of 13.8o Baume on 22nd March. Ripeness was 5% above average and occurred 2 days earlier than average. Fruit condition was excellent with no disease or damage problems.
Production Notes
As is always the case at Moss Wood, to maximize quality, picking was done by hand. Despite the much greater expense, this is the only method that ensures absolutely sound fruit is delivered to the winery. Each variety was destemmed and the berries transferred to small, open fermenters. For reliable quality outcomes, fermentations were by pure yeast cultures. Each batch was hand plunged up to 4 times per day and the wine stayed on skins until the best balance of tannin was achieved. This was typically 12 to 15 days. All batches were pressed then underwent malolactic fermentation before being racked into 225 litre French oak barrels, 20% of which were new.
After 32 months wood aging, the wine was racked from barrel, lightly fined with skim milk and then sterile filtered and bottled on 18th Nov, 2014. The final blend is 95% Cabernet Sauvignon, 4% Petit Verdot and 1% Cabernet Franc.
Cellaring Notes
Being such an attractive wine it is delicious to drink now. However, it is a wine in the mould of previous vintages like 2008, 1996 and 1985, especially the latter, if slightly more tannic than that vintage. Accordingly, for those who enjoy some maturity in their wines, we recommend a minimum cellaring time of 10 to 15 years. For those who like fully mature characters, the cellaring requirement is 20 to 25 years.