Moss Wood 1996 Cabernet Sauvignon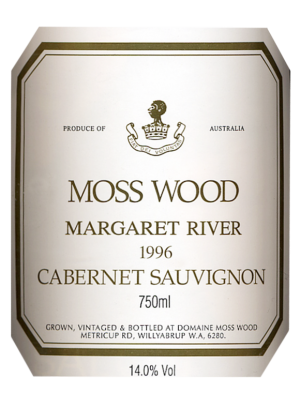 Wine Facts
| | |
| --- | --- |
| Harvested: | 13/3/1996 |
| Bottled: | 30/6/1998 |
| Released: | 30/6/1999 |
| Yield: | 10.00 t/ha |
| Baume: | 13.70 |
| Alcohol: | 14.00% |
| Vintage Rating: | 10/10 |
SOLD OUT
---
Tasting Notes
The 1996 Moss Wood Cabernet has ripe mulberry, redcurrant aromas with some violet overtones and hints of earthy, tarry, smoky characters. The palate is supple and fleshy with mulberry, redcurrant, chocolate, coffee bean and smoky oak flavours: it is rich and concentrated with a tight structure and strong, fine though firmish, tannins.
Moss Wood 1996 Cabernet Sauvignon - Huon Hooke, huonhooke.com
Moss Wood 1996 Cabernet Sauvignon - The Wine Magazine
Moss Wood 1996 Cabernet Sauvignon - Robert Parker
Vintage Notes
It's a pretty big call, when we say that this is the best wine we've made. Following a copybook growing season which featured plenty of spring rains and no extremes of heat during summer, we rank the vintage overall with 1990 and 1980 and better than 1985 and 1991. In terms of the wine's ripeness, it is better than the 1991 and on a par with 1995. Problems with birds meant that it was not a trouble free vintage. While all varieties were damaged, the cabernet sauvignon was particularly affected. Sorting was necessary to see that the quality of the wines was not diminished. Beautiful autumnal weather with clear sunny days during harvest gave the team at Moss Wood much to be happy about. As this was to be the first Moss Wood Cabernet made in the style of the reserve, the near perfect vintage was regarded as a most propitious sign.
Production Notes
The grapes were picked, crushed, destemmed and tipped into open tanks seeded with pure yeast culture. The juice remained on skins for an average of 8 days and for at least 24 hours after the wine had passed 0° baume. During this time, the tanks were plunged at least three times a day. Fermentation temperatures are relatively high (up to 30°C) and each batch is pumped over once towards the end of fermentation to improve colour and blow off any lingering hydrogen sulphide.
As Moss Wood now has the luxury of more fermentation space, we were able to keep the Cabernet on skins for 3 or 4 days after fermentation has finished. In doing this we are seeking to ameliorate the tannins. Time on skins can remove furry tannins and soften and improve the definition and balance of tannins. There is a point beyond which there is no improvement in this softening process. Daily tastings look for the point at which improvement ceases. The grapes are then pressed with all pressings being included in the wine.
This is then allowed to settle in stainless steel tanks and left on its gross lees until after the malolactic fermentation is completed. After that it is put into barrel - 50% in new French oak and 50% in two and three year old barrels - where it is kept for two years. The ways in which the Reserve style differs from the traditional Moss Wood Cabernet are that the wine is given two years in barrel (rather than 18 months); and 12 (rather than 6) months bottle maturation before release. This allows the development of some complex features of cabernet sauvignon - tar and smoky characters - while the wine is in oak. It also means that the Cabernet will lose some of its fresh fruit flavours without adversely affecting the wine. The additional time in bottle enables it to avoid bottle shock and any problems associated with handling it. We believe that these two changes underpin a step up in quality and takes the vineyard to a new level. We hope that this will enhance Moss Wood's reputation as a quality producer.
Cellaring Notes
This is a bold, complex and powerful red that has impressive weight, a velvety texture, and a long, dry finish. It will improve over the next ten years but, well cellared, will live for much longer.