Moss Wood 1993 Cabernet Sauvignon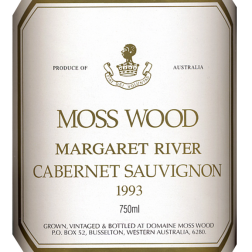 Wine Facts
| | |
| --- | --- |
| Harvested: | 21/3/1993 |
| Bottled: | 7/11/1994 |
| Released: | 15/7/1995 |
| Yield: | 8.50 t/ha |
| Baume: | 13.20 |
| Alcohol: | 13.00% |
| Vintage Rating: | 7/10 |
SOLD OUT
---
Tasting Notes
The 1993 Moss Wood Cabernet has a bright red colour, redcurrant, black cherry, and scented oak aromas with hints of chocolate while the palate is lively with vibrant, redcurrant flavours and an underlying earthiness. The wine is supple, has medium depth, fresh acidity and fine grain tannins. Although quite closed, it is surprisingly attractive young and has the structure, acidity and tannins to be long lived.
We believe that although the wine lacks the glorious opulence of the rich, fruity 1976 or 1985 cabernets, it will develop richness with cellaring. We see the 1993 as similar in style to vintages such as 1987, 1979, 1984 and 1981: although clearly less tannic than the 1981 and richer and more complex than the 1987. However, we believe that it will prove to be regarded as better than those fine vintages.
Vintage Notes
The 1993 vintage followed a mild, dry summer in which temperatures remained consistently low. It was the sort of season which had vignerons concerned that if autumn rains occurred the vines might not ripen. Fortunately, the feared wet spell did not eventuate and picking of the fully ripened grapes began later than usual. The fruit condition was excellent with above average acidity, good beaume, average alcohol levels and no evidence of disease or bird damage.
The wines reflect the cool nature of the summer having a stamp of elegance and finesse. They show lifted, perfumed fruit aromas and a fresh and crisp palate structure. There were early worries that the palate might be uncharacteristically tough for the Moss Wood vineyard but the ripeness of the grapes and the good alcohol levels meant that such concerns were unfounded.
Production Notes
The 1993 Cabemet was made according to normal procedure at Moss Wood. The wine spent seven days on skins during which time it was hand plunged. After that, it was placed in stainless steel tanks to undergo the malolactic fermentation. Then the wine spent twelve months in oak (fifty per cent of which was new) before the final blend (including all pressings) was made in stainless steel. Fining trials were then conducted to see if any fining was needed. In 1993, Keith was keen to slightly reduce the impact of the tannins because of the wine's finer style and so egg whites were used for fining for the first time since 1983. On that occasion, the opposite situation existed and Moss Wood needed to counteract the impact of the massively, ripe tannic vintage.
Cellaring Notes
It is moderately attractive for the short term, although it does not have the soft spiciness of the '92, for example. Instead, it is a wine with very serious cellaring prospects and we would recommend it for at least 10 -15 years storage.