Moss Wood 1987 Cabernet Sauvignon Reserve
Moss Wood 1987 Cabernet Sauvignon Reserve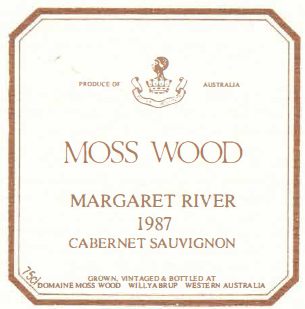 Vintage Notes
The growing season before the 1987 vintage was cool and dry following substantial winter rains that finished in early to mid October. The foliage and fruit showed no signs of stress at harvest following the mild, dry summer and a record Cabernet crop was produced. The Cabernet Sauvignon was the highlight of the vintage at Moss Wood – a vivid and vibrant wine with attractive floral perfumes and elegant berry fruit. It is the most attractive young wine that Keith Mugford has seen in his eleven years at the vineyard. Keith's high opinion of the wine and its potential is shared by former proprietor, Bill Pannell, who sees it as having even greater depth of flavour than the other attractive young wines of the 1980s – the '81, '83 and '85 Cabernets.
Tasting Notes
The nose has aromas of violets, ripe raspberries and mulberries in balance with toasty French oak.
The palate is supple and generous with rich, ripe fruit and fine tannins. It is a well-rounded wine with excellent structure and good length. With cellaring, it will develop even greater complexity and depth of flavour.
Cellaring Notes
The wine reminds Keith of the huge fruit character of the 1976 and 1977 Moss Wood Cabernets although it has more finesse than those wines. He believes that it has a cellaring potential of at least ten years and will rank with the 1975, 1980 and 1983 wines as one of the great Moss Wood Cabernets. Lovers of Moss Wood will be pleased to learn that, because of the more abundant harvest in 1987, there is a greater quantity of wine available than for the previous vintage. It is a must for all serious wine enthusiasts.