1983 Moss Wood Chardonnay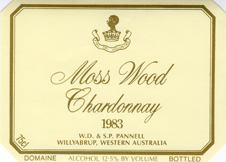 Wine Facts
| | |
| --- | --- |
| Harvested: | 17/2/1983 |
| Bottled: | 18/12/1984 |
| Released: | 6/4/1984 |
| Yield: | 8.70 t/ha |
| Baume: | 12.60 |
| Alcohol: | 12.50% |
| Vintage Rating: | 7/10 |
---
Tasting Notes
Moss Wood made its first chardonnay vintage in 1980, with about a ton and a quarter of grapes being picked. Because such a small amount was made, the vintage was treated as an experimental one, and the Chardonnay was entered in shows and used as an advertising piece. In spite of the success of this vintage, it was not until 1983 that another chardonnay was made at Moss Wood as the 1981 crop was wiped out by strong winds and that of 1982 by frost. (Such is the lot of wine makers!)
The result, by comparison with the 1980, was a much finer, more stylish wine with superb, fresh chardonnay fruit in balance with the gentle oak.
The 1983 Moss Wood Cabernet Sauvignon won best Western Australian wine in theThe State Government Insurance Awards in 1984. An order of 10 dozen bottle for inclusion on the wine list at London's prestigious Mirabelle Restaurant giving Moss Wood some important international recognition.
Production Notes
The 1983 chardonnay was picked earlier than the 1980 and consequently had a lower alcohol content. Fermentation was begun in refrigerated stainless steel vats, which enabled the winemakers to control temperature and therefore the speed of fermentation. At the half way stage, the wine was transferred to oak barrels to finish the process. After fermentation, the wine was left to settle on its lees (sediment) for four weeks. It was then cleaned up and placed in oak for four months before bottling.