Moss Wood 2013 Chardonnay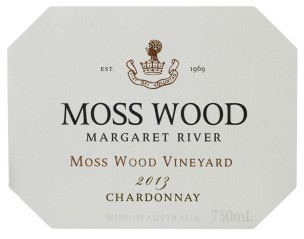 Wine Facts
| | |
| --- | --- |
| Harvested: | 24/02/2013 |
| Bottled: | 07/07/2014 |
| Released: | 20/11/2014 |
| Yield: |  10.11 t/ha |
| Baume: | 13.00 |
| Alcohol: | 14.00% |
| Vintage Rating: | 09/10 |
SOLD OUT
---
Tasting Notes
Colour and condition:
Medium to deep straw hue, with some green tints; bright condition.
Nose:  A bright nose with Chardonnay's floral notes in the ascendency – peaches, melons and blossoms all contributing to a generous fruit aroma.  Underneath there are complex notes of limes, roast nuts, toast, spice and malt.
Palate:
Bright fruit notes also prevail on the palate, with lively peach, melon and lime flavours, enhanced by crisp acidity and medium to full body.  The wine has good length, with an interesting combination of caramel, malt and roast almonds, as well as some light, toasty oak characters.
Vintage Notes
The 2012/13 growing season can be summarised with one word – abundant. We had abundant rain during calendar year 2012 then abundant sunshine during the growing season which combined to produce an abundant crop. This was despite a formidable hailstorm on 30th November 2012 doing quite a bit of harm to the vineyard.
Starting with the rainfall first, we recorded 941mm rain for the year, ever so slightly below the average of 971mm. More importantly, 312mm fell during the growing season, so there was plenty of soil moisture available to the vines and most of this fell at times that didn't disrupt the flowering. Hence, the abundant crop.
Temperatures followed the theme of the last 8 vintages and so we experienced consistent warmth. We had only one 40⁰ day, on New Year's Eve, but enjoyed consistent warmth. It turned out that January was slightly cooler than the previous year but February went the other way, and warmed up. Regardless, the vines had plentiful opportunity to ripen the crop, experiencing just over 1000 hours between 18 and 28⁰C, when they only need about 700 hours to ripen the crop.
That hailstorm was a beauty and we have to be honest and say we were surprised and delighted that the yield was as good as it was. We can only guess why this might have been. Perhaps the explanation lies in the fact the storm occurred relatively late in the season, by which time the Chardonnay had full foliage and was properly shoot-positioned. This meant the shoots and leaves were all standing vertically, and above, the bunches, providing some shelter. Certainly most bunches were hit and damaged but this was far less extensive than we initially thought. Our best estimate at the time was that about 10% of the crop was lost. How was it then that a near identical event in December 1996 took out 80% of the crop? It seems we just got lucky because, for the record, the yield was 10.11 tonnes per hectare, some 44% above average.
The rest of the season proved uneventful. It was almost exactly average in length taking 112 days to go from flowering to harvest, as opposed to the mean of 111 days, and at that point the ripeness was 13.0⁰ Baume when typically we pick at 13.1⁰. We successfully controlled disease and birds and had some very high quality fruit to play with in the winery.
Production Notes
Median Harvest Date:  24th February, 2013
Harvest Ripeness:  13⁰ Baume
The fruit was hand-picked, delivered immediately to the winery and then whole bunch pressed and the juice was collected in stainless steel tank and settled for 48 hours.  After settling, the clear juice was racked to a second stainless steel tank, allowed to warm up and then was seeded with a pure yeast culture.  A small percentage of the lighter settling solids was also included.  Once fermentation was under way, the juice was racked to 225 litre French oak barrels, 28% new, where it underwent both the alcoholic and malolactic fermentations.
At the end of June 2014, after 15 months in barrel, all the barrels were racked and blended in a stainless steel tank and the wine was prepared for bottling.  It was fined with bentonite and isinglass and then sterile filtered and bottled on 8th July, 2014.
Cellaring Notes
As is so often the case with good Chardonnay, this wine has such bright fruit notes and complexity, it can definitely be enjoyed as a youngster.  However, it is also one for the cellar and will gain a more complex nose as the bottle bouquet builds over the next 10 years.  The palate will soften and become perceivably richer, so it will drink consistently for at least a further 10 years after that.