Moss Wood 2003 Chardonnay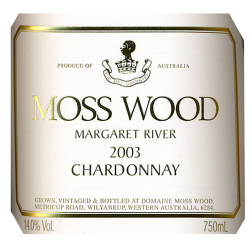 Wine Facts
| | |
| --- | --- |
| Harvested: | 24/2/2003 |
| Bottled: | 18/2/2004 |
| Released: | 2/5/2004 |
| Yield: | 6.12 t/ha |
| Baume: | 13.30 |
| Alcohol: | 14.00% |
| Vintage Rating: | 9/10 |
SOLD OUT
---
Tasting Notes
The consistency of the Margaret River region is underlined with another extremely good vintage for Moss Wood Chardonnay. While not achieving the stellar heights of the 2001 wine and falling a fraction short of the quality of the 2002, this is still a wonderful Chardonnay. Importantly, it marks another step along the road to reducing alcohol levels in this wine: a project which has been the focus of a great deal of attention in the Moss Wood vineyard.
As you would expect, the Moss Wood 2003 Margaret River Chardonnay shows the influence of the harvest. It has more minerality and clearly defined acidity than (say) the 2002 which was more subtle, more creamy and more round with a glycerol-like texture and zesty acidity.
The Moss Wood 2003 Margaret River Chardonnay has classy cedary oak aromas with hints of lemony citrus, intense white peach, nectarine and grapefruit flavours with some minerally notes and quite strong, crisp, refreshing acidity on a finish that lingers. It is tighter, leaner and finer than usual, though it still has some generous viscosity and richness on the mid-palate. There is the same power and weight that lovers of the style have come to expect.
Vintage Notes
The growing season leading up to the 2003 harvest had been uncharacteristically warm throughout. This warmth during the winter of 2002 caused an early and uneven budburst, which led to variable shoot numbers on vines and therefore reduced crop levels. Apart from that, it was a very good growing season - a week or two ahead of usual - with no significant disease problems.
Thunderstorms in February and cool, dewy nights caused a small amount of botrytis infection but this was easily removed, with only a 5% reduction in crop as a result. The onslaught of birds was worse than usual with an earlier onset meaning that, atypically, birds were eating chardonnay grapes which were green or hard. Once the nets were on, this problem was reduced.
A perennial problem in the vineyard is striving to get the vines to ripen the grapes so that sugar, tannin and flavour ripeness correspond. When this occurs the finished wine will have flavour ripeness with the minimum amount of alcohol and so be better balanced. Getting full ripeness at lower alcohol levels may also reduce the likelihood of random oxidisation in the finished wine.
To achieve a point that will give ripe flavour and tannins at lower sugar levels, the vines at Moss Wood are given maximum fruit exposure and every effort is made to encourage even ripening. The widespread use of Scott Henry trellising has sped up the ripening process. Although the herbal flavours now disappear at an earlier stage, the grapes do not appear to have much fruit flavour until they reach between 12.5 and 13 degrees beaume. The tendency has been to want to let the grapes continue ripening beyond 13 degrees towards 13.5 degrees to achieve maximum flavour. Experience has shown that the grapes will be fully ripe at 13 degrees and so it is better to pick then in order to restrain the alcohol levels.
In 2003, the Moss Wood chardonnay block was sampled every second day after the grapes had gone over 12 degrees beaume and were picked at 12.7, 12.8 and 13.3 degrees beaume. Keith was happy with the results although he is still keen to reduce the level at which the final batch is harvested.
Production Notes
The 2003 Chardonnay was made according to established procedure: it was destemmed before being pressed, then allowed to settle for a couple of days before fermentation began in stainless steel tanks (with 2% solids included). After 48 hours the must was racked into 100% new French barriques where it was stirred every day until the end of primary fermentation. It was then stirred once a week. In 2003, the wine only underwent a partial malolactic fermentation. After that, it was racked into tank, adjusted for acidity and sulphur dioxide, and returned to barrels with its lees. In January 2004, it was racked from barrel, checked, fined with bentonite for protein stability and then filtered and bottled. Seventy per cent was bottled under screw cap and thirty per cent under cork (mainly for the export market).
Cellaring Notes
The wine is expected to improve with short-term cellaring. For those interested in the mature characters of chardonnay, it is a vintage that will age well. Optimum drinking around 2015.