Moss Wood 1998 Chardonnay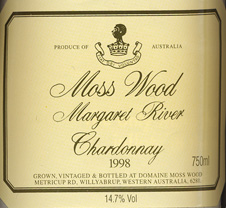 Wine Facts
| | |
| --- | --- |
| Harvested: | 4/3/1998 |
| Bottled: | 26/1/1999 |
| Released: | 5/4/1999 |
| Yield: | 4.08 t/ha |
| Baume: | 14.10 |
| Alcohol: | 14.70% |
| Vintage Rating: | 8/10 |
SOLD OUT
---
Tasting Notes
The 1998 Moss Wood Margaret River Chardonnay shows ripe fruit aromatics with hints of smokey oak; rich, ripe peach flavours with marmalade, citrus and grapefruit notes as well as some caramel, butterscotch and smokey bacon characters; the finish is crisp and clean with lingering toasty oak. It is a fresh, complex white that shows generosity of fruit yet is tightly structured.
The 1998 Chardonnay reminds us of the warmth and sweetness of a ripe year like 1994 but it has a firmer structure. It is an opulent wine which has the fruit intensity, alcohol and acidity to age with confidence in a good cellar for ten years.
Review: American wine writer, Robert Parker described the latest Moss Wood Cabernet and Chardonnay as 'stunning'. He gives the Chardonnay 91 points saying: The 1998 Chardonnay (14.7% alcohol) is an explosive wine, offering copious quantities of power, fruit and body. Huge in the mouth with a blockbuster finish, this multi-layered super concentrated wine is a dazzling example of what Australian Chardonnay can be. For its size, it possesses remarkable delineation and vibrancy. Drink it over the next 4-5 years.'
Vintage Notes
In its initial stages, the 1998 vintage in Margaret River was near perfect. The region experienced good dry conditions with warm though not excessive temperatures. This meant that the ripening process was consistent and quite rapid. Attacks from marauding birds were severe, but favourable ripening conditions meant that crops could be harvested quickly before too much harm was done. The lack of rain meant that the grapes were not threatened by disease nor was it likely that flavour would be diluted: the weight and generosity of the whites were guaranteed by these conditions.
Dry vintages, even those which are too warm, are preferable to wet seasons. Although aware that it was a little too warm in the last three weeks before harvest, we point to 1996 and 1997 being great years in Burgundy because they were hot. And 1998 was certainly dry, at least until after the whites had been picked. There had been some initial problems. An indifferent budburst meant that the number of shoots per vine was down and so yield was lower than would have liked. A minor outbreak of powdery mildew was contained as the vineyard team was able to get the spray program going before any losses occurred.
Although the quantities have doubled over the previous vintage, they are still well below expectation: about half of the tonnage achieved in 1995 and 1996. Still, the quality will be some compensation. (As an aside, we believe that 1999 will see a return to average yield for the Moss Wood Chardonnay. That's some relief.) The 1998 vintage reminded us of the 1994 but this Chardonnay should have greater concentration complexity than the wine from that harvest. We rate it better than the 1997, 1994 and 1992 though not the equal of the 1996, 1995, 1993 and 1990, as it lacks the finer texture and subtlety of those wines.
Production Notes
Production followed accepted practice at Moss Wood. Picking commenced with the grapes a little riper than ideal, at 14 degrees beaume (rather than Keith's preferred target of 13.5 degrees). The grapes were crushed and pressed immediately, and allowed to settle for 48 hours. At this stage, the clear juice was racked off, with 2% of solids, into stainless steel tanks for the commencement of primary fermentation. Halfway through the ferment, the wine was pumped into barrels where it remained until this was completed. During this period, both in stainless steel tanks and barrels, battonage takes place. This is the practice of stirring the lees to produce a finer wine, one that shows better integration of fruit and oak.
After the finish of fermentation, battonage takes place once a week until after the wine has gone through a partial malolactic. From this point on, the lees remain undisturbed. The wine remained in almost 100% new French oak for eleven months. It was then protein stabilised, cold stabilised and bottled. We have only used new oak for the Chardonnay since 1987 and decided to include a couple of one year old barrels as an experiment. We weren't satisfied with the results and will only be using new barrels from 1999 on.
Cellaring Notes
An opulent wine which has the fruit intensity, alcohol and acidity to age with confidence in a good cellar for ten years. Optimum drinking 2005.