Moss Wood 1991 Chardonnay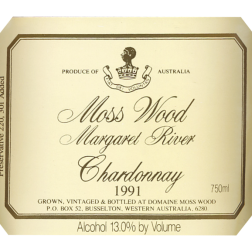 Wine Facts
| | |
| --- | --- |
| Harvested: | 24/3/1991 |
| Bottled: | 11/12/1991 |
| Released: | 8/2/1992 |
| Yield: | 6.36 t/ha |
| Baume: | 12.80 |
| Alcohol: | 13.00% |
| Vintage Rating: | 9/10 |
SOLD OUT
---
Tasting Notes
The 1991 Chardonnay is consistent with the style developed in the past few vintages at Moss Wood. It has attractive fruit aromas with hints of melon, peach and lemon, nuances of soft, spicy oak and some butterscotch and bacon overtones from the malolactic fermentation.
This is a fresh, crisp wine, quite delicate at present, but with a good acid structure, delicious peach and melon flavours on the mid-palate and spicy butterscotch and vanillin oak characters on the finish. The 1991 Moss Wood Chardonnay has a soft, pleasant mouthfeel, a fullness of flavour and significant length. It is an elegant wine that is both stylish and complex.
Vintage Notes
The 1991 Chardonnay is a landmark wine for Moss Wood: it is the second vintage harvested on the Scott Henry trellising system and the first wine to be grown entirely under the influence of the new trellises. The vines performed particularly well carrying a higher than usual crop of very pleasing quality. This has confirmed our initial positive reaction to the impact of the Scott Henry trellising on yield and grape quality.
The 1991 vintage took place a week later than usual as the growing season was very mild with only a few very hot days in February disrupting the slow, even growth of the grapes. As a result, the Moss Wood whites are elegant wines with fresh acid, attractive fruit and the structure to ensure a long cellaring life.
Production Notes
The wine-making followed the typical pattern at Moss Wood: the grapes were picked, crushed, drained and pressed, with the free-run juice and all pressings being analysed immediately. After being allowed to settle for two days, the clear juice was then racked to another stainless steel tank where it was seeded with a pure, yeast culture for fermentation.
The first half of this process took place in stainless steel after which the wine was transferred to new French (225 litres) barriques for the fermentation to conclude. Barrel fermentation of one hundred percent of the wine took place in medium toasted Troncais and Allier oak. The Chardonnay spent nine months in barrels on its lees without being stirred. A significant proportion underwent a full malolactic fermentation during this time. The wine was then fined, filtered and bottled.
Cellaring Notes
Although seductively approachable in its youth, this Chardonnay will reward those who are able to resist the temptation and leave some bottles for ten years or more. Optimum drinking 2005.