Moss Wood 2008 Chardonnay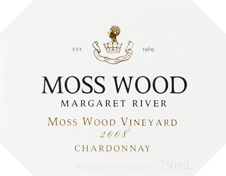 Wine Facts
| | |
| --- | --- |
| Harvested: | 14/2/2008 |
| Bottled: | 23/8/2009 |
| Released: | 24/9/2009 |
| Yield: | 5.36 t/ha |
| Baume: | 13.90 |
| Alcohol: | 14.50% |
| Vintage Rating: | 9/10 |
SOLD OUT
---
Tasting Notes
Colour and condition: Medium to deep straw colour in bright condition.
Nose: Initially the wine displays Moss Wood's typical fruit aromas of a predominance of melon and peach, with a lime and citrus lift, as well as orange marmalade. In the background there are interesting complex notes of malt and spice and some butter, toffee and smoked meat from the malolactic fermentation. The oak notes add to the cinnamon-like spiciness and add charry, toasty characters.
Palate: This is a full bodied wine, with lively acidity that gives a cleansing minerality to the palate. The fruit flavours are of limes and peach, and which combine with toffee, cinnamon and there is an almost mushroom or truffle-like earthiness on the finish. The tannins are firm but the texture is smooth and the charry, malt biscuit oak flavours round out the finish.
Vintage Notes
If there is a grape variety in Margaret River that displays the viticultural equivalent of bi-polar disorder, it's probably Chardonnay. This is best illustrated by looking at its responses to our weather conditions and examining the different outcomes we get with yields and wine quality.Very few consumers would dispute the point that Chardonnay quality in Margaret River has been consistently high, regardless of vintage, since the first wines were released in the early 1980's. However, those same weather conditions that have delivered such consistent quality have also delivered major variations in yield. So much so that it is not uncommon for it to go up or down from one vintage to the next, by 50%. The culprit is of course our Springtime weather and it is very common to experience wet, windy conditions around Chardonnay flowering time. In the worst years we actually experience hail storms which can quickly turn the 50% reduction to 80%. So 2008 was one of those years when the Chardonnay decided to have a down year and with a crop of 5.36 tonnes per hectare, it was 41% below its long term average of 9.13. Difficult flowering conditions in Spring 2007 took their toll and we had a significant reduction in bunch weight.
Production Notes
Production of the wine was very much in the Moss Wood tradition. The fruit was whole-bunch pressed and the juice was racked to stainless steel tanks, where it was settled at 12C for 48 hours. Pressings were kept separate, and for additional fining. After settling, the clear juice was then racked to barrel, with 2% solids included for additional complexity, and it was seeded with pure yeast culture 1116 for fermentation. This was carried out at between 15 and 19 Celsius. All the barrels were new French oak primarily from the Remond, Seguin Moreau and Rousseau cooperages, plus some trial barrels from Damy, and Sylvain. After ferment finished the wine was left on its fermentation lees and inoculated for the malolactic fermentation and 66% of barrels went through to completion. The wine stayed in oak for 17 months and was then racked to stainless steel tank and prepared for bottling. Fining trials were carried out and the wine was fined with bentonite for protein stability and isinglass to reduce phenolics. It was then sterile filtered and bottled on 24th August 2009.
Cellaring Notes
We recommend a minimum of 10 years cellaring, although it will need at least another 5 years beyond that to reach full complexity.