Moss Wood 1989 Chardonnay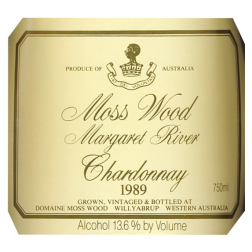 Wine Facts
| | |
| --- | --- |
| Harvested: | 19/2/1989 |
| Bottled: | 9/1/1990 |
| Released: | 12/4/1990 |
| Yield: | 7.82 t/ha |
| Baume: | 12.90 |
| Alcohol: | 13.60% |
| Vintage Rating: | 7/10 |
SOLD OUT
---
Tasting Notes
The wine has a rich, melon and peaches fruit character, some spiciness from the charred oak and a hint of nuttiness and even marmalade from the lees character. It is soft, with a high acidity, has long, generous flavours and a quite stern underlying structure with a fair amount of tannin.
Vintage Notes
1989 looked to be producing an average vintage in Margaret River until the rains fell in February. This delayed the harvest by three weeks and picking began in the middle of March. The unseasonal weather did not, however, affect the ripeness of the fruit with the Chardonnay having an alcoholic content of about 13%. One by-product of the wet vintage was some unwelcome rot in the form of botrytis on these grapes. This was carefully picked out so that no botrytised fruit was included in the finished wine.
The late vintage has produced a very generous wine with huge fruit characters. It is one of the most mouth-filling young Chardonnays produced at the vineyard.
Production Notes
The decisions made about the handling of the wine were in line with the general practice for Chardonnay at Moss Wood: the wine was crushed, drained and settled to begin fermentation in stainless steel. After about two weeks, the wine was transferred to casks to complete its fermentation.
For the first time since 1983, the Moss Wood Chardonnay was prevented from undergoing a malolactic fermentation. Keith believed that the wine was already so soft that it might become a bit flabby if it were allowed to undergo a secondary fermentation. Not surprisingly the 1989 Moss Wood Chardonnay is similar to that produced at the vineyard in 1983.
As with the three previous vintages, the wine was aged entirely in new French oak - using barrels from Allier, Troncais and Vosges. The 1989 Chardonnay was left in wood for nine months which experience has shown to be the optimum time for this premium Margaret River varietal.
Cellaring Notes
Should have been drunk by now or DRINK NOW!