Moss Wood 2009 Chardonnay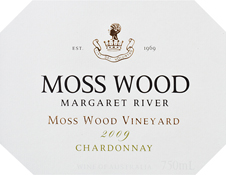 Wine Facts
| | |
| --- | --- |
| Harvested: | 08/03/2009 |
| Bottled: | 13/10/2010 |
| Released: | 23/11/2010 |
| Yield: | 6.89 t/ha |
| Baume: | 13.20 |
| Alcohol: | 14.00% |
| Vintage Rating: | 9/10 |
SOLD OUT
---
Tasting Notes
Colour and condition: Colour is medium to deep straw hue and condition is bright.
Nose: There is considerable volume and the nose presents as a lifted combination of fruit aromas and blossom-like cents, reminiscent of honeysuckle or nasturtium. The aromas are typical Moss Wood, with yellow flesh nectarine, peach and passionfruit. There are also interesting complex notes of malt biscuit, caramel, mature cheese and charry oak and once again, the usual Moss Wood marmalade characters.
Palate: The wine initially fills the mid-palate with generous, ripe stone fruit flavours and these combine with full body and lively acidity to give lifted, juicy mouth feel. There are complex secondary flavours of citrus and oak and roast nut and malt that combine to give an almost lemon meringue pie combination on the finish. Despite the presence of oak, the tannins are in good balance, so the wine has a clean finish, with a smooth texture.
Vintage Notes
Once again we note the 2008/2009 growing season is one of the most even we have had. The summer temperatures gave us consistent warmth but no extreme heat and the vines found it very much to their liking. All varieties respond with correspondingly even ripening and the resulting wines have generous fruit characters and lots of interesting, background complex notes.
Although there were some differences in the growing conditions, we think 1995 is a comparable year, especially for the Chardonnay. So, having seen this comparison, readers may find the following numbers quite interesting. In 1995, the median harvest date for Chardonnay was 19th February whereas in 2009, it was 8th March. So the more recent season was notablely cooler, ripening some 17 days later and 7 days later than the long term average, across all vintages, of 1st March. This means there have only been two later vintages for Moss Wood Chardonnay, the 1989 and 2006, picked on the 19th and 15th March, respectively. Yet the style of wine made in those years was quite different. In 1989, we had very heavy rain in the first week of February when the vines were probably within a fortnight of harvest.
The resulting cool weather and dilution took them several more weeks to make up. In much is cussed 2006, temperatures were very mild and the vines simply didn't get the heat they needed to maintain good ripening rates. In the end, of course, Chardonnay, an early variety, did not have the difficulties of Cabernet Sauvignon. However, despite reaching full maturity, it made very delicate wine, with a predominance of citrus and minerality not often seen in a Moss Wood. Can we draw any conclusions from all this? Despite the relatively late harvest date, the 2009 doesn't share much in common with the 1989 or the 2006. So perhaps the key was the consistent, if slightly lower than usual temperatures, which, combined with no interruption from rain, were just right for the vines to maintain slow and steady ripening. In addition, yields were moderate but not excessive. The 2009 crop was 6.89 tonnes per hectare, slightly above the long term average of 6.63. The lack of stress in this environment ensured they also kept a complex flavour profile, or so we think. Whatever the drivers, we are delighted with the result!
Production Notes
Median Harvest Dates and Ripeness: 8th March, 2009; 13.2 Baume
The fruit was harvested by hand and delivered to the winery, where it was whole bunch pressed. Free run juice and pressings were kept separate to fine the latter for tannin. The juice was then transferred to stainless steel tanks, where it was cold settled for 48 hours and the clear juice was hen racked to barrels. A small percentage of solids was included, around 2% of the final volume, or as close as we can calculate. Each batch was then seeded with a pure yeast culture for primary fermentation and this was controlled to a maximum temperature of 18°C.
Next, the wine underwent partial malolactic fermentation and once this was completed, the different batches were blended and the finished wine returned to barrel, for continued aging on lees. Our choice of oak remains, as usual, 225 litre, French barrels, with the majority supplied by Tonnelleries Remond and Seguin Moreau. This year we were also pleased with the results from a trial of Latour barrels and we will include more of them in the future.
After spending 18 months in cask, the wine was then racked to stainless steel tanks and fining trials were carried out. In the end, the wine was fined with bentonite, to achieve protein stability, and isinglass, to improve tannin balance. It was then sterile filtered and bottled on 13th October 2010.
Cellaring Notes
Given the quality of the vintage in general, we have no hesitation in recommending this wine for cellaring, despite its youthful approachability. Certainly it can be enjoyed as a young wine but for those who have the space and the patience, and an enthusiasm for old wines, we strongly recommend it be kept till at least 10 years of age. By then it will have developed some complex bottle bouquet but will not be reaching its peak. We anticipate it will drink at its most complex between 15 and 20 years old and should hold that status for at least a further 5 years beyond that.