Moss Wood 2010 Chardonnay
Moss Wood 2010 Chardonnay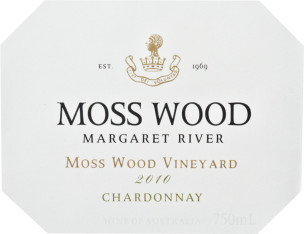 Wine Facts
| | |
| --- | --- |
| Harvested: | 1/3/2010 |
| Bottled: | 24/9/2011 |
| Released: | 16/12/2011 |
| Yield: | 8.14 t/ha |
| Baume: | 13.10 |
| Alcohol: | 14.50% |
| Vintage Rating: | 10/10 |
SOLD OUT
Tasting Notes
Colour and condition:
Deep straw colour with green tints; bright condition
Nose:
Lifted primary aromas of stone fruits like peach and nectarine, mingling with orange zest, roast nuts and hard cheese. Although generous in fruit it's very complex.
Palate:
Rich, creamy flavours fill the palate, with combinations of peach, grapefruit, marmalade, malt biscuit and nut. The wine is full bodied, but with lively acidity that ensures freshness and a firm but not drying tannin. On the finish there are soft, toasty, almost cinnamon-like oak flavours.
Vintage Notes
The consistency of our weather over the last 5 seasons has been remarkable. It could be said that Moss Wood is a relatively young vineyard, since our first vintage was only 1973 providing slightly less than four decades of experience. Nevertheless, such a favourable run of vintage conditions is without precedent and 2010 joins the list of seasons that provided consistent warmth but no extreme heat, resulting in near-perfect ripening conditions.
A further advantage for this period is excellent crop levels, not something we are accustomed to with Chardonnay. It is our most inconsistent variety by far and regularly varies from its average yield by as much as 38%. Compare this with Cabernet Sauvignon, where variation around the mean is less than half this, at 17%. Amusingly, the rules seem to have changed over the last 5 vintages and Mother Nature has allowed Chardonnay to average 8.05 tonnes per hectare, making its long term average of 6.74 look a bit meagre!
This confirms that we were able to look after the crop successfully. We had no disease problems and the usual threat of bird damage, which raised its ugly head in early January 2010, was negated by covering the vines with our nets.
The period from flowering to harvest was 111 days, which is almost exactly the same as the average of 110 and the median harvest date of 1st March was identical to the average. A further indicator as to the quality of the seasonal conditions and pointer to the higher yields was that bunch weights in each of the Chardonnay blocks were all around 10% above average, suggesting the flowering conditions and soil moisture were excellent.
With relatively mild temperatures, we were able to approach the picking of the Chardonnay in much the same manner as we had with the 2008 Cabernet Sauvignon. We waited patiently with each block until the last of its green fruit characters disappeared and picked as it achieved full flavour ripeness, so the harvest ran from 26th February to 4th March. By way of comparison, in 2007 and 2008 the vintage was picked on 3 consecutive days. Just as with the '08 Cabernet Sauvignon, this means the 2010 Chardonnay has been able to retain vibrant and lifted aromas which can so often be lost in the rush of warm weather. The theme of maintaining the average continues with the sugar level because the 2010 was harvested at 13.1° Baumé, almost spot on the long term mean of 13.2.
Production Notes
Median Harvest Date: 1st March, 2010
Harvest Ripeness: 13.1 Baumé
All the fruit was hand harvested and delivered to the winery for whole bunch pressing. The juice was drained and racked to stainless steel tanks, where it settled for 48 hours. Pressings were kept separate and racked to stainless steel, where they were fined and settled. The clear juice from each batch, including the pressings, was then seeded with pure yeast culture and racked into French barriques for fermentation which was controlled at 18°C. Once primary fermentation was completed, malolactic fermentation then proceeded to 30% completion. After this, all batches were blended and the finished wine was returned to barrel, with its fermentation lees, in the end accruing 17 months in oak. At this point it was racked from barrels, fined with bentonite and isinglass and then sterile filtered and bottled on 27th September 2011.
Cellaring Notes
Chardonnay starts it's life with significant complexity and so is a very interesting young wine to drink. However, this does not preclude it from improving further with cellaring. Over the next 10 years the aging process will introduce more complexity to the nose as the fruit aromas are enhanced by new toasty and nutty characters. At the same time, the palate will slowly soften, leaving it with a sweeter, longer feel. This is our minimum cellaring recommendation and we commend the wine for at least 20 years keeping to see it at full development.