Moss Wood 1995 Chardonnay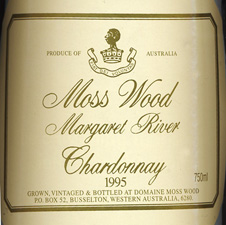 Wine Facts
| | |
| --- | --- |
| Harvested: | 16/2/1995 |
| Bottled: | 24/11/1995 |
| Released: | 9/4/1996 |
| Yield: | 7.00 t/ha |
| Baume: | 13.70 |
| Alcohol: | 14.50% |
| Vintage Rating: | 9/10 |
SOLD OUT
---
Tasting Notes
The 1995 Moss Wood Chardonnay shows classic varietal and regional characters, perfumed aromas of ripe melon and grapefruit with some toasty oak notes and lifted peach, melon and barrel ferment characters on the palate. It is quite an opulent wine with lively flavours, a potent fruit sweetness even though it is bone dry, and gentler tannins than usual (perhaps due to the influence of the new press) on a soft but crisp, lingering finish this is a very impressive young chardonnay: intense, pristine and well-balanced.
Vintage Notes
The only disappointment we've had with the 1995 Moss Wood Chardonnay is that it is in short supply. Unfortunately, in spite of the best efforts of enthusiastic viticulturists, the crop was reduced by half. After a warm winter, bud burst was early but cold weather in September stunted the growth of at least half, or perhaps as much as sixty or seventy per cent, of the shoots. The vines attempted to compensate for lost yield and bunch weight was up by about ten per cent. There is an old viticultural rule that you must always overestimate light crops by as much as fifty per cent. Even taking that into account, we underestimated the high yields and were pleasantly surprised with what we were able to harvest. The fruit was in excellent condition and ripened so quickly at the end that it got a little riper than we anticipated. While Moss Wood has never been shy of ripeness, the final result was not exactly what we wanted.
Production Notes
The wine was the first through our new Wilmes press and was produced in accord with current practice at the winery. It was pressed, drained, allowed to settle for 48 hours, and fermented in stainless steel until the half way point. At this time, the wine was transferred to new French oak where it completed the fermentation process and remained on lees until November 1995. Then it was fined, filtered and bottled ready for release about four months later.
Cellaring Notes
While it is delicious current drinking, we strongly encourage you to cellar some of the wine preferably for up to ten or fifteen years. Optimum drinking 2007.