Moss Wood 1997 Chardonnay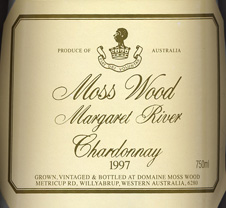 | | |
| --- | --- |
| Harvested: | 6/3/1997 |
| Bottled: | 7/1/1998 |
| Released: | 1/4/1998 |
| Yield: | 2.58 t/ha |
| Baume: | 13.60 |
| Alcohol: | 14.00% |
| Vintage Rating: | 8/10 |
SOLD OUT
---
Tasting Notes
The wine has medium to deep straw colour, with some green tints. On the nose, it shows very interesting complexities: the traditional fruit aromas of peach, melon and citrus; sweet marmalade-like richness with toasty oak; and a smokey almond character from the malolactic fermentation. The palate has similar complexities.
Its structure is quite fine, perhaps unusually so given the wine's 14% alcohol content. This gives the wine good acidity and freshness, and with well-balanced tannins on the finish, there is the right sort of make-up for good cellaring. Certainly we are very pleased with the peach and grapefruit flavours and the background characters of bacon, marmalade, bread dough and oak. The tannin structure of the Chardonnay is one of the paradoxes of the 1997 vintage. It has been our experience that in the very low-yielding years, the tannins can be too dominant. However, with the 1997 this is not the case and the reasons for this are not all that clear. It probably reflects the fact that the wine has long, lively and complex fruit flavours that balance the structure and smother it to a degree.
Moss Wood 1997 Chardonnay - Decanter
Vintage Notes
The 1997 vintage was one of the more difficult ones in Moss Wood's relatively short history. While the vines were flowering, strong winds swept the vineyard significantly reducing the chardonnay crop. This situation was exacerbated by gusty winds which battered the vineyard for a month from late in September. The worst hail storm in memory on December 11th caused great damage to the pinot and the spirits of the vigneron. Rain in February and March took the edge off summer weather which had promised an exceptional vintage.
Production Notes
The wine was made according to the usual practice at Moss Wood: the grapes were crushed and drained so that there was no skin contact. All pressings were included in the wine with the juices cold settled for three days in stainless steel tanks, inoculated with a pure yeast culture and fermented until half way at 18C. They were then racked into one hundred per cent new French barriques where they finished fermentation. Seventy five per cent of the wine was allowed to go through a malolactic fermentation. The chardonnay was left on its gross lees for three months and spent a further ten months in barrel on its fine lees.
Cellaring Notes
1997 Moss Wood Chardonnay is a wine that Moss Wood was most pleased with and one which we believe is a serious cellaring prospect with the potential to improve over ten years. It has sufficient fruit depth and complexity to also offer attractive short term drinking. Optimum drinking 2009.