Moss Wood 1990 Chardonnay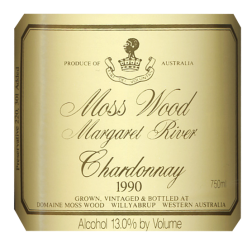 Wine Facts
| | |
| --- | --- |
| Harvested: | 5/3/1990 |
| Bottled: | 9/1/1991 |
| Released: | 10/4/1991 |
| Yield: | 6.85 t/ha |
| Baume: | 12.90 |
| Alcohol: | 13.00% |
| Vintage Rating: | 10/10 |
SOLD OUT
---
Tasting Notes
The 1990 Moss Wood Chardonnay is a wine of some complexity. Its colour is light gold with green tinges. The nose has hints of lime, peach and pineapple fruit aromas, with a suggestion of marmalade (Fortnum and Mason, in Keith's opinion). The oak character provides a toasty background with overtones of butter and dough from the lees aging. On the palate, the structure is fresh and crisp with good acidity. The fruit flavours are delicate but with good length, the tannins are obvious but not bitter and the oak provides a nice spicy finish.
Vintage Notes
The 1990 Chardonnay was produced from the latest vintage so far recorded at Moss Wood with the harvest commencing two weeks behind schedule, on March 1st. The summer had been exceptionally mild and damp and consequently the grapes were well nourished with good composition in the juice. Fortunately, the dampness did not produce any botrytis problems nor was there any splitting of the grapes.
Production Notes
The grapes were picked, crushed, drained and pressed in the usual manner, with the free-run juice and all pressings being analysed immediately. This was allowed to settle for two days after which the clear juice was racked to another stainless steel tank where it was seeded with a pure, yeast culture for fermentation. The wine was kept in stainless steel until the fermentation was half completed at which point it was transferred to new French barriques to complete the fermentation there.
As usual, these 225 litres oak barrels had a medium toast on the inside surface and were fifty per cent Allier and fifty per cent Troncais oak. The wine spent nine months in barrels in contact with its lees and during this time underwent a partial malolactic fermentation.
Cellaring Notes
If still in your cellar DRINK NOW!