Moss Wood 1994 Chardonnay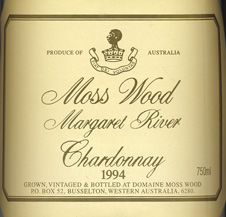 Wine Facts
| | |
| --- | --- |
| Harvested: | 27/2/1994 |
| Bottled: | 11/12/1994 |
| Released: | 4/4/1995 |
| Yield: | 9.00 t/ha |
| Baume: | 13.60 |
| Alcohol: | 14.50% |
| Vintage Rating: | 8/10 |
SOLD OUT
---
Tasting Notes
The 1994 Moss Wood Chardonnay shows dominant ripe fruit aromas and peach and melon flavours with overtones of lime, citrus and butterscotch. This strong fruity white is complexed by toasty oak, yeasty lees barrel ferment character but these are only subtle flavours. It has great generosity, a glycerolly texture, firm tannin structure as well as great richness, concentration and power.
We believe that dedicated followers of Moss Wood will love its massive full flavours even if some critics dwell on its richness and roundness and wonder whether it has gone over the top. We believe that it does not suffer from the afflictions of an excess of alcohol such as oiliness or blowsiness. Comparing the 1994 to the 1989 Pierro Chardonnay which was similarly big, ripe and rich and was much loved by the punters but sometimes greeted coolly by the purists.
In thinking about other Moss Wood wines, we compare it to the 1976 Cabernet which exacted similar comments when it was released. With the benefit of hindsight, the bold flavours of the 1976 have always provided a great drink and the wine has aged particularly well.
Vintage Notes
While the fine, mild season leading up to the 1993 vintage in Margaret River produced great white wines, 1994 will be better remembered for its reds which are rich and concentrated and potentially among the best ever from the region. In 1994, the summer was dry with no excessive heat and helped produce huge, ripe, generous whites. These are not elegant or refined like the delicate, perfumed Chardonnay of 1993 which had fineness as its hallmark. Rather the 1994 Moss Wood Chardonnay is big, rich and round, a wine for enjoyment rather than considered thought.
Production Notes
The 1994 Moss Wood Chardonnay was made according to the standard technique used at the winery since 1990. It is crushed and drained, then cold settled for 48 hours after which time the clear juice is racked off to stainless steel tanks where it is seeded with pure yeast culture and fermented at 18 degrees Celsius until it reaches 7 degrees beaume. At that stage, it is racked to small oak casks where it finishes the fermentation process. The development of secondary characters in the wine, and hence its complexity, is encouraged by aging it on its lees in 100% new French oak (50% Allier and 50% Troncais) for nine months and by allowing half the barrels to undergo a malolactic fermentation. The wine was fined filtered, cold stabilised and then bottled on 12 December, 1994.
Cellaring Notes
There is no question that cellared well, this is a Margaret River chardonnay that could be kept for ten years or more. It is, however, such delicious current drinking that most will be cheerfully consumed over the next few years. Optimum drinking 2006.