Moss Wood 1985 Chardonnay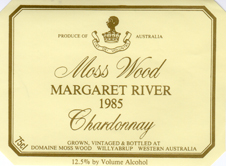 Wine Facts
| | |
| --- | --- |
| Harvested: | 25/2/1985 |
| Bottled: | 26/1/1986 |
| Released: | 15/4/1986 |
| Yield: | 8.44 t/ha |
| Baume: | 12.50 |
| Alcohol: | 7/10 |
SOLD OUT
---
Tasting Notes
The nose has fresh fruit aroma, with a clean lemon scent combined with a rich marmalade overtone from the new barrels and the lees. The palate has fine structure with high acid, good fruit flavour and with a gentle grape tannin and well balanced oak on the finish.
Reviews: Britian's Good Wine Guide rates three Moss Wood wines in its listing of the 500 best value wines available in the U.K. The 1985 Moss Wood Chardonnay is listed as a good, fat, buttery wine with attractive tangy acidity.
Production Notes
During 1985, we extended our work with Chardonnay and took some important new steps in our search for greater complexity. Fermentation in cask is a standard practice, but the time spent aging in barrel has been steadily increased. The 1985 wine spent virtually 12 months in wood (it was bottled only 2 weeks before the 1986 vintage commenced) and spent all of that time in contact with its lees. Needless to say, it is a wine with many facets.
Cellaring Notes
Its cellaring prospects are excellent and it should drink at its best at 7-10 years of age, although the wine remains attractive, even at this early stage.