Moss Wood 1999 Chardonnay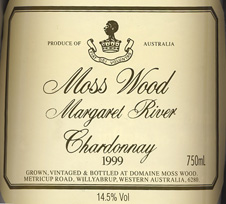 Wine Facts
| | |
| --- | --- |
| Harvested: | 2/3/1999 |
| Bottled: | 17/1/2000 |
| Released: | 3/4/2000 |
| Yield: | 6.89 t/ha |
| Baume: | 13.40 |
| Alcohol: | 14.50% |
| Vintage Rating: | 10/10 |
SOLD OUT
---
Tasting Notes
The 1999 Moss Wood Chardonnay is one of the most complex white wines made at Moss Wood. It has medium deep straw colour with some green tints; and ripe peach, melon and tropical fruit characters on the nose with some nutty, roast cashew overtones. We also see some green tinges, grapefruit and quince and some cinnamon and spicy vanillin aromas. It has initial fruit sweetness, great richness and concentration of flavour featuring a spicy, melony mid-palate, neat integration of fruit and oak and great length. This is a full-bodied white that is intense, powerful and complex and yet shows underlying finesse.
Vintage Notes
The 1999 vintage was a remarkable one for Margaret River. Conditions during the ripening season were ideal with mild summer temperatures proving a great lead up to vintage. Hopes were high at the start of harvest which was a week later than expected. No rain was threatening, the marri gums were blossoming and so bird damage was unlikely to be a problem. Temperature continued to be perfect during vintage, fruit was in good condition and was picked at optimum ripeness.
Production Notes
The mendoza clone (known as 'gingin') makes up about ninety per cent of Moss Wood's chardonnay grapes while the rest are Californian clones which appear a little neutral and lacking in complexity. Leeuwin Estate viticulturist, John Brocksopp, dismissively refers to them as 'the trebbiano clones'. For the first time at Moss Wood, these different clones were fermented separately.
The more neutral clones were whole bunch pressed, racked into barrels without settling, and allowed to ferment with a full indigenous culture. It was decided not to use this batch unless happy with it. However, we were was satisfied with the experiment and chose to use this portion in the final blend.
The mendoza clone was made by the method that has become traditional at Moss Wood. The grapes were crushed and cold pressed immediately and were then allowed to settle for 72 hours before the clear juice (including 2% solids) was racked into the fermentation tank. Indigenous yeast strains started the process of fermentation and when the wine had reached 10 degrees beaume, pure yeast culture was added. The chardonnay was then racked into barrels until after the fermentation had finished.
In order to equalise all barrels, the wine (including the 'clonal batch') was racked into a blending tank. After blending, the wine was returned to barrels. Battonage, the practice of stirring the lees, is used to produce a wine that shows better integration of fruit and oak and greater finesse. It takes place every day during the primary fermentation. From that point until the wine begins to undergo malolactic fermentation, battonage takes place once a week. After this, the wine is left unstirred on its lees in barrel for 11 months. The wine is then protein stabilised, cold stabilised, lightly filtered and bottled.
Cellaring Notes
Although immediately approachable and immensely appealing, this wine will improve over the next three years and can be cellared with confidence for up to eleven years. Optimum drinking 2011.