Moss Wood 1993 Chardonnay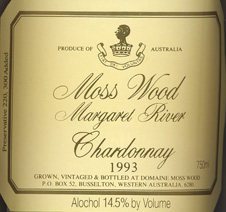 Wine Facts
| | |
| --- | --- |
| Harvested: | 3/3/1993 |
| Bottled: | 24/1/1994 |
| Released: | 12/4/1994 |
| Yield: | 4.05 t/ha |
| Baume: | 13.60 |
| Alcohol: | 14.50% |
| Vintage Rating: | 9/10 |
SOLD OUT
---
Tasting Notes
The 1993 Moss Wood Chardonnay has a medium straw colour, peach, pineapple and quince aromas with hints of smokey oak while the palate shows rich, ripe peach, marmalade and butterscotch flavours with overtones of bready barrel-ferment characters. It is lifted by its freshness, is supple, round and full, has an attractive texture and mouthfeel, a tight structure to ensure aging and a firm, clean tannin grip on the long, dry finish.
Vintage Notes
A mild and dry growing season meant that the vines were not subjected to heat stress and carried a good sized crop easily. Moss Wood was, indeed, fortunate to miss a big hail storm in spring which devastated the crop of some of our neighbours. It is not surprising that fruit was good and ripe and the fruit potential became wine quality.
Production Notes
The wine was made according to standard practice at the winery since 1990: it is crushed and drained, then settled for 48 hours after which time the clear juice is racked off and fermented to half way mark in stainless steel and then racked to new oak. The development of secondary characters in the wine, and hence complexity, is encouraged by allowing the wine to undergo a malolactic fermentation and by aging all of it on its lees in new French oak for nine months. The primary characters, especially the natural fruitiness of the Moss Wood Chardonnay, are preserved by only allowing half to go through the malo.
Cellaring Notes
Like other Moss Wood Chardonnays, it can be cellared for up to ten years with confidence. This will enable it to develop greater complexity and concentration of flavour. Optimum drinking 2006.