Moss Wood 1989 Pinot Noir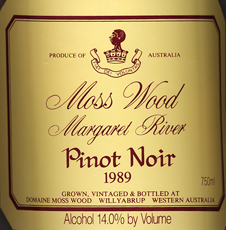 Wine Facts
| | |
| --- | --- |
| Harvested: | 14/3/1989 |
| Bottled: |  9/12/1990 |
| Released: | 12/10/1991 |
| Yield: | 6.50 t/ha |
| Baume: | 12.90 |
| Alcohol: | 14.00% |
| Vintage Rating: | 6/10 |
SOLD OUT
---
Tasting Notes
The 1989 Moss Wood Pinot Noir has a ripe, spicy nose with hints of cinnamon, mushrooms and lightly charred oak. It is a big, rich, wine which is soft, round, well-balanced and full of flavour, with an aftertaste which lingers. This is delicious current drinking and most will choose to consume it while young.
Vintage Notes
A wet winter saw the average rainfall recorded for the first time in the ten years which Keith and Clare have spent at Moss Wood. The average rainfall for Margaret River is 44 inches and yet the ten year average (1979 -1988) is only 37 inches.
The soil and moisture were in excellent condition following the wet winter and a mild, wet spring. Effective summer rainfall settled the dust and gave promise of a substantial crop. Unfortunately, the rain-bearing weather patterns brought strong winds and significant losses resulted. The balance of the good growing conditions and the wind damage meant that an average crop has been recorded.
The warm weather held until the end of January and was replaced by cooler temperatures and four inches of rain in February.
The 1989 vintage was a difficult one for Pinot Noir at Moss Wood, mainly because four inches of rain fell two weeks before harvest. Keith Mugford wanted to make a different wine from the soft, spicy yet fairly straightforward Pinot that was produced, in similar conditions, in 1982.
Production Notes
The fruit was picked as late as possible to obtain maximum ripeness and the resultant wine had an amazing 14.2% alcohol. In order to maximize colour, to increase complexity (especially on the nose) and to enhance the structure on the palate, Keith wanted to emphasise the stalky character of the wine and to give it as much tannin as possible. Consequently, instead of including only 40%, Keith went for 75% uncrushed bunches in the fermentation vats. He left the wine as long as possible at 34ºC rather than at 32ºC, giving it fourteen rather than the more usual ten to eleven days to ferment.
This is an excellent wine from a difficult vintage but it lacks the style, elegance or complexity of recent vintages of Moss Wood Pinot factors which were taken into account in pricing the wine.
Cellaring Notes
Judging from experience with the 1982 Pinot and considering its high alcoholic content and method of fermentation, the wine should cellar for seven to ten years.