Moss Wood 2005 Pinot Noir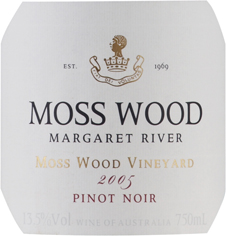 Wine Facts
| | |
| --- | --- |
| Harvested: | 3/2/2005 |
| Bottled: | 2/11/2006 |
| Released: | 7/11/2007 |
| Yield: | 5.35 t/ha |
| Baume: | 13.10 |
| Alcohol: | 13.50% |
| Vintage Rating: | 9/10 |
SOLD OUT
---
Tasting Notes
Deep ruby colour, a complex nose of bright strawberries and dark cherry flavours across the mid and back palate. It has fresh acidity and firm tannins though these are well-balanced by fruit and spicy, charry oak flavours and its weight.
Peter Forrestal's tasting notes describe the wine as having pretty, lifted aromatics and rich, concentrated and complex, mulberry, black cherry flavours with some gamey, stalky notes; powerful, long and balanced.
Vintage Notes
The 2005 growing season in Margaret River was great and so we have high hopes for the pinot noir.
The vineyard management program applied the usual rigour so necessary with this variety. Yields were very good and so aggressive that bunch thinning was necessary to get the crop down to the required level of between 2 and 3 tonnes per acre and hand leaf removal maximised fruit exposure.
Production Notes
The winemaking approach followed traditional practice at Moss Wood. The grapes were destemmed into open tanks, with 5% of bunches being included uncrushed. Longterm readers of the newsletter would know that 15 years ago 50% of bunches were uncrushed. The consequent characters derived from stalks are no longer considered a desirable character either in Burgundy or Margaret River central - except to provide some subliminal background complexity. The wine was aged for 20 months in new (33%) and used oak before being racked into tank where it was sterile filtered (but not fined) before bottling on 3rd November 2006.
Cellaring Notes
Given the quality of the vintage, we see this as being an excellent wine and using the historical tasting of November 2006 as our guide, we recommend a minimum cellaring time of 10 years. During this time it will gradually soften and become more complex, showing Pinot Noir's earthy, mushroom and meaty notes. Given the staying power exhibited by the 1985, we think the 2005 will age quite comfortably to 20 years of age for those who are really keen on cellaring.