Moss Wood 2003 Pinot Noir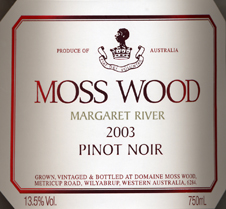 Wine Facts
| | |
| --- | --- |
| Harvested: | 10/2/2003 |
| Bottled: | 4/11/2004 |
| Released: | 1/11/2005 |
| Yield: | 4.80 t/ha |
| Baume: | 12.70 |
| Alcohol: | 13.50% |
| Vintage Rating: | 10/10 |
SOLD OUT
---
Tasting Notes
The Moss Wood 2003 Pinot Noir has bright, fragrant cherry and plum aromas, spicy oak and good concentration of dark berry flavours, complexity, finesse and smoothness of texture and a long, satisfying finish with well-integrated tannins.
Review: Max Veenhuyzen, Grape Expectations published in the Guardian Express -December 13, 2005. While Margaret River is better known for its cabernet, the region is also home to some exceptional pinot, such as Moss Wood's - full of strawberry, cherry and sour plum aromas and flavours with a savoury edge. Silky, seamless and never-ending like a bolt of the finest material, this is pinot noir cut from cloth from which very few Australian pinots are crafted. 3.5 stars
Review: John Fordham for "The Sunday Telegraph" - 18 December 2005. Margaret River has a big pinot noir fan in Keith Mugford of Moss Wood fame. In a region where cabernet sauvignon is king, you rarely see too much attention given to pinot noir, the Achilles heel of Australian wine. But Mugford continues to stick to his guns with the variety and his superbly structured 2003 Moss Wood Pinot Noir proves that his perseverance has been vindicated. As well, look out for his equally appealing 2004 Amy's Cabernet Sauvignon, 2005 Semillon and Ribbon Vale Vineyard Semillon Sauvignon Blanc.
Vintage Notes
This was a great vintage for pinot noir at Moss Wood; the relatively small crop followed a consistently warm season in which vine development and fruit maturation progressed at an even pace. There were no problems with rain and so there were none of the diseases associated with wet conditions and, because of netting, there were no problems with birds. Keith believes that the Moss Wood team could not have handled vineyard management better. Crop thinning was carried out pre-veraison and leaf thinning took place to ensure a high level of fruit exposure as the grapes ripened. Sampling of the vineyard was spot on and all the pinot was harvested, fully ripe, between 12.8 to 13° beaume.
Production Notes
Wine making was routine with the grapes cold soaked in chilled tanks for 48 hours before seeding took place to start the fermentation. The vats were hand-plunged four times a day until after fermentation, when this was reduced to once a day. The juice was tasted regularly until the right tannin balance was achieved at which time the grapes were pressed, the wine transferred to barrel to undergo malolactic fermentation, then adjusted and racked back into barrels (one-third new French barriques). There it remained for 18 months before being bottled in November 2004.
Cellaring Notes
At present this wine is typically Pinot Noir and very enjoyable. The quality of the vintage suggests that it could be cellared with confidence for twenty years.