Moss Wood 1999 Pinot Noir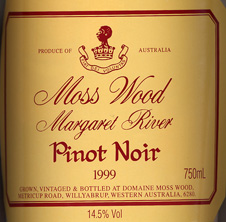 Wine Facts
| | |
| --- | --- |
| Harvested: | 21/2/1999 |
| Bottled: | 25/3/2001 |
| Released: | 5/11/2001 |
| Yield: | 8 t/ha |
| Baume: | 13.80 |
| Alcohol: | 14.50% |
| Vintage Rating: | 9/10 |
SOLD OUT
---
Tasting Notes
The Moss Wood 1999 Pinot Noir has attractive spicy, strawberry, raspberry and red cherry perfumes while the palate shows wild strawberry and plum characters with some savoury tones of beetroot, spice and salami. This is a rich, round and generous medium bodied red with dense, deep flavours, a velvety texture and firm acidity and toasty oak on a long satisfying finish.
Vintage Notes
Margaret River enjoyed one of its mildest seasons ever during the 1998 - 1999 growing season and as the vintage approached expectations of good quality were high. Such seasons are well suited to a variety like pinot noir, which never struggles to achieve full ripeness but can suffer if the temperatures get too high. On the other hand, the Moss Wood team get very edgy about the cabernet sauvignon because the cooler conditions will delay the harvest to the point where autumn rain may threaten quality.
The harvest commenced on schedule on 22nd February when the grapes were registering 13.2° Beaume. The crop was smaller than average as a result of poor flowering during the spring although this is never a concern with pinot noir since we are always trying to encourage low yields. Although this is less profitable, the quality is invariably better.
Production Notes
In the winery, all but 10% of the grapes were crushed, de-stemmed and pumped into open fermentation tanks. The last 10% of the fruit was then added as whole bunches. Tanks were chilled down to 12°C and the juice pumped over once per day for the next three days. After that, the tanks were allowed to warm up and hand plunging, four times per day was commenced.
For the 1999 harvest, we began a series of experiments using wild yeast strains, rather than following the tradition of using selected, pure culture species. The plan was to see if this technique could improve the complexity and texture of the wines. So, the Pinot Noir was left to start fermenting by itself and we watched and waited with interest.
Despite some trepidation, the wild ferment was largely uneventful and the wine went through this stage with a minimum of fuss. At the very end, one batch refused to finish and this required re-seeding with a selected strain. (This was a warning of things to come but more on that another time.)
When the fermentation reached dryness, the batches were tasted daily to monitor the changes in the tannin structure as this would decide the date on which it was pressed. The Pinot Noir was left on skins for an average of 15 days. After pressing, the wine spent five days in a stainless steel tank and was then racked off its gross lees and put into barrel to undergo the malolactic fermentation. Once this process was finished, the wine was racked into stainless steel once more. After analyses were checked, it was returned to barrel as one homogeneous blend, for the first time. The oak treatment was standard for the Pinot Noir at Moss Wood - the wine was aged for twenty two months in 228 litre French barriques (33% of which were new).
Since this wine was made with a wild yeast ferment, how has this affected its taste and our impressions of it? Apparently not by much because our descriptions seem to match those we have used in previous years. The nose shows fruit aromas of strawberry, cherry and plum, with some spiciness from the whole bunches. There are also some interesting and complex characters - sappiness, beetroot and smoke, the last of which is enhanced by toasty oak. As is typical with Moss Wood Pinot Noir, the wine has begun to develop some earthy, mushroom notes, which we believe has been enhanced by the wild yeasts.
Cellaring Notes
Many people are of the view that this variety, at least when made in Australia, will not cellar well. While we acknowledge that it does drink well as a young wine because it has such enjoyable fruit flavours and relatively soft structure, we enthusiastically encourage those people with cellars to give the Pinot Noir serious consideration for ageing. We have recently seen examples of the 1990, 1989, 1988 and 1983 vintages, all of which looked in terrific condition and provided great drinking but promised more still. Accordingly, we note that the 1999 vintage is fine for current drinking because it is really quite 'yummy' but remind people that it will certainly repay patience and cellaring.