Moss Wood 1996 Pinot Noir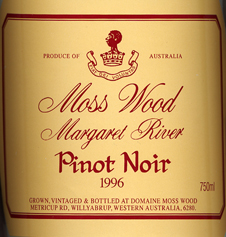 Wine Facts
| | |
| --- | --- |
| Harvested: | 14/2/1996 |
| Bottled: | 24/1/1998 |
| Released: | 14/9/1998 |
| Yield: | 9.00 t/ha |
| Baume: | 13.40 |
| Alcohol: | xx.xx% |
| Vintage Rating: | 9/10 |
SOLD OUT
---
Tasting Notes
The 1996 Moss Wood Margaret River Pinot Noir is a superb wine. It has powerful perfumes of ripe strawberries and plum with light briary, cherry aromatics. The palate is soft, generous and quite silky and the wine rich and concentrated with spicy oak, red berry and dark cherry flavours and some underlying gamey, earthy notes. At this stage, the structure is quite firm and there is a supple, sappy, earthy character on the finish.
The 1996 Moss Wood Margaret River Pinot Noir is more fruity than the 1995 with nearly the same complexity. We also see similarities between the 1995 and 1996 and the 1985 and 1986 but in reverse, the 1985 is like the 1996. The current vintage is a finer version of the 1994, and like the 1991 but with more flesh. It is more generous than all but the best pinots produced from the vineyard and ranks it alongside those wines.
Of the 1996 vintage, we prefer the Margaret River Pinot Noir to that of the Pemberton Pinot Noir, whereas in the 1997 vintage we believed that Pemberton produced the better wine.
Vintage Notes
Both 1995 and 1996 were outstanding vintages in Margaret River. The growing season for the latter saw slightly above average spring rainfall up to Christmas; no wind or hail damage during that time; and consistent summer temperatures. There was no heat stress during summer, no interference from rain and as a result the fruit achieved excellent early ripeness. With no pressure from the birds, Moss Wood was able to enjoy an early harvest of undamaged fruit. Keith Mugford was delighted that the pinot noir showed lovely varietal statement both in the grapes at vintage time and as a young wine.
Production Notes
Once again, the pinot was made following the established approach. The juice fermented for ten days on skins with 20% whole bunch inclusion; was hand plunged four times a day; then underwent the malolactic fermentation in stainless steel. After completion, the wine was racked to barrel (one-third new oak) where it remained for 20 months, from May 1996 until January 1998. (Keith wondered if that made it the longest barrel aged pinot in Australia.) At the end of that time, it was decided that it needed no fining, so it was racked, lightly filtered and then bottled. This was the first year that the vineyard had undergone significant leaf plucking - to improve fruit exposure - and this innovation in the vineyard has contributed to the quality and intensity of the fruit character in the finished wine.