Moss Wood 1990 Pinot Noir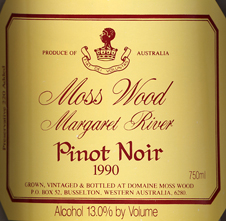 Wine Facts
| | |
| --- | --- |
| Harvested: | 15/3/1990 |
| Bottled: | 8/11/1991 |
| Released: | 27/10/1992 |
| Yield: | 8.50 t/ha |
| Baume: | 13.40 |
| Alcohol: | 13.00% |
| Vintage Rating: | 9/10 |
SOLD OUT
---
Tasting Notes
Although attractive at it's release, because of the fruit, this powerful Pinot with good texture and significant length should be an excellent cellaring proposition. We believe that this wine is more complex than the 1981 Pinot Noir without having its dominant fruit character. In our opinion, it will be difficult to make a better Pinot in this vineyard.
The 1990 Moss Wood Pinot has deep ruby colour and intense perfumed aromas of ripe cherries and spicy oak. On the palate, it has good acid, rich, concentrated berry fruit with hints of dusty oak and powerful tannins. This is an elegant wine which is supple, has a pleasant mouthfeel, is well-balanced, and has the structure to ensure long life.
Reviews: Petaluma's Brian Croser rated the 1990 Moss Wood Pinot Noir and one of the six wines he has enjoyed over the last six months. My most memorable recent wine and food cicumstance was lunch on the bungalow verandah od Seven Spirits Bay resort, Northern Territory, on the edge of the Arafura Sea, becalmed with a 1990 Moss Wood Pinot Noir and a palata of crisp salad, cold sliced rare buffalo filet and a dab of mild chilli jam.
Vintage Notes
The 1990 vintage was the most remarkable yet experienced by vignerons at Margaret River. The summer was exceptionally mild with no more than one or two really hot days. There was consistent rain throughout winter, spring and summer so much so that three days without rain was considered a drought. Soil moisture was good and the infant bunches flowered exceptionally well. The consistent rain also meant that there was no splitting of the grapes. Amazingly, the rain was unaccompanied by strong winds or hail so that there was no damage at all to the vines. The rain also lead to a massive flowering of the marri blossoms which attracted the attention of the local bird life and there was no bird damage to the crop.
Production Notes
Forty per cent whole bunchs were included during the crushing of the grapes. The wine received twelve months in barrel; with a high twenty per cent being place in new oak. This has resulted in it having a strong tannin backbone and, therefore, being a wine for the future.[hr]