Moss Wood 1992 Pinot Noir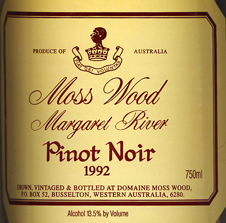 Wine Facts
| | |
| --- | --- |
| Harvested: | 27/2/1992 |
| Bottled: | 17/11/1993 |
| Released: | 11/10/1994 |
| Yield: | 8.80 t/ha |
| Baume: | 13.50 |
| Alcohol: | 13.5% |
| Vintage Rating: | 8/10 |
SOLD OUT
---
Tasting Notes
The 1992 Moss Wood Pinot Noir is riper than usual without showing any signs of hotness or portiness. It is a complex, rich red which has intense, spicy, red berry, cherry characters with hints of cinnamon and earthiness, impressive depth, good weight and fine, ripe tannins.
Review: Tim White of the Financial Review, described the 1992 Moss Wood Pinot Noir as among the best he had experienced in recent tastings: 'rhubarb, dried strawberry, autumn smoky/stalky, black cherries - a complex nose which is very Burgundian in style. Fine succulent dark cherries and spiced fruit, tingly acidity and supply chewy tannins in the background. Should benefit from 4/5 years. 18.75(19)
Production Notes
The 1992 Pinot Noir is something of a surprise packet at Moss Wood, especially after two fine vintages in 1990 and 1991. The wine is a huge, gutsy, alcoholic red that will drink well young but can be cellared with confidence.
It was made using thirty per cent uncrushed bunches according to techniques developed and refined at Moss Wood over many years. Pre fermentation, the must was cooled and pumped over for half an hour once a day, delaying the onset of fermentation by forty eight hours. This maceration enhances the fruit flavour and colour without extracting the more aggressive tannins. It is an extension of a Burgundian technique introduced by Nicholas Potel of Domaine de la Pousse d'Or when he worked at Moss Wood in 1991.
During fermentation, the must was hand plunged at least five times a day until dryness. At that stage, the ancient technique of pigeage was employed. The winemakers were immersed in the fermenters stirring the wine and stamping the whole bunches so that more sugar was released and the fermentation picked up once again. In this way, the fermentation process was lengthened and the wine remained in contact with the skins for about fourteen days. This enhances colour and tannins yet avoids any harshness or bitterness. The wine was pressed two days after the fermentation stopped the second time.
The wine went through a malolactic fermentation in stainless steel and was then transferred to barrels where it stayed for twelve months. As usual, about a third of the barrels were new with half of these coming from Allier and half from Tronais. The wine was fined, filtered and bottled in November 1993.