Moss Wood 1995 Pinot Noir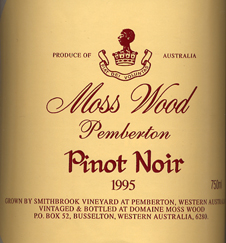 Wine Facts
| | |
| --- | --- |
| Harvested: | 13/2/1995 |
| Bottled: | 11/6/1996 |
| Released: | 14/10/1997 |
| Yield: | 9.20 t/ha |
| Baume: | 13.60 |
| Alcohol: | 14.50% |
| Vintage Rating: | 9/10 |
SOLD OUT
---
Tasting Notes
The 1995 Moss Wood Pinot Noir is medium to deep red, relatively dark for this variety from the Wilyabrup vineyard. It has perfumed aromas of dark fruits, cherries and plums while the palate shows cherry, raspberry, primary fruit characters with complex earthy undertones, a hint of mushrooms, and a meaty, spicy background. The oak influence is subtle with a subdued tannin structure.
In style and structure, it is one of the best Moss Wood Pinots: more intense that the 1991, and similar to the 1992 but with more flesh, greater ripeness and more intense fruit flavours. Its strengths are its intensity and complexity. It is a powerful, interesting and complex red rather than a pretty, perfumed wine.
Vintage Notes
As with the Cabernet, conditions for pinot noir at Moss Wood during the 1995 vintage were very good. The grapes ripened consistently and were not affected by rain damage. There was some pressure on the vineyard from birds towards the end of harvest and the crop was slightly lighter than usual. Overall, however, 1995 was a very good year for the reds at Moss Wood.
Production Notes
The Pinot Noir was made according to the technique which has become standard, even traditional, at the winery. The grapes were crushed with twenty per cent whole bunches included and moved to stainless steel tanks. There, the must was cooled to 10°C for forty eight hours and pumped over twice without yeast inoculation. It was then allowed to warm to 15°C and seeded with yeast to encourage fermentation. This took place at temperatures of up to 30°C. The wine remained in contact with its skins for twelve days during which time it was hand plunged four times a day.
Once the wine reached 0 beaume, each fermenter received half an hour of pigeage (the action of using the feet to punch down the skins and other solids to encourage the extraction of colour and tannins and to encourage aeration of the wine). In the process, some uncrushed grapes were treated and so the period of fermentation was extended for a few days.
At this point, the wine is drained from the fermenters and transferred into stainless steel tanks with all the pressings included. After it has undergone the malolactic fermentation, it was racked into barrels thirty three per cent of which were new, 225 litre Allier barriques. Sixteen months later, it was lightly filtered and bottled.
Cellaring Notes
The oak influence is subtle with a subdued tannin structure that will enable up to ten years cellaring.