Moss Wood 2016 Pinot Noir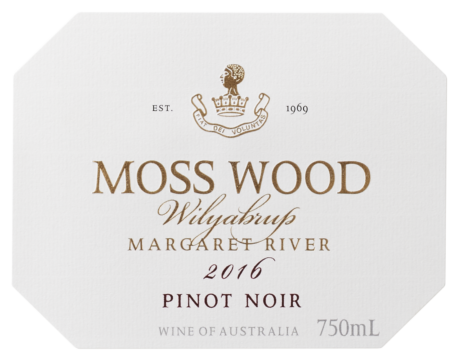 Wine Facts
| | |
| --- | --- |
| Median Harvest: | 10/02/2016 |
| Bottled: | 14/11/2017 |
| Released: | 26/10/2018 |
| Yield: |   4.43 t/ha |
| Median Harvest Ripeness: |  13.9⁰ Baume |
| Alcohol: | 14.5% |
Tasting Notes
Colour and condition: Medium to deep ruby hue and in bright condition.
Nose: An initial, bright statement of strawberries, strawberry jam, cherry and cinnamon-like spices. Behind this a background of ground cumin, mushroom and tar, with a very fine note of toasty oak.
Palate: The theme of brightness and lift continues with generous strawberry and cherry filling the front and then the spices and oak providing the finish. The structure is firm but in balance, with acid and tannin well covered by medium to full bodied mouthfeel combining with fruit and oak flavours to give a seamless feel.
Moss Wood 2016 Pinot Noir – Fergal Gleeson, The Great Wine Blog
Moss Wood 2016 Pinot Noir - James Halliday, winecompanion.com.au
Vintage Notes
2016 Pinot Noir Climate Data
Growing Season Ave Temperature – 19.7⁰C
Number of hours accrued between 18 and 28⁰C – 887
Number of hours above 33⁰C – 58
Days Elapsed Between Flowering and Harvest
2016 Pinot Noir – 99 days
Mother Nature was in a generally benign mood for most of the 2015/16 growing season but she chose to test us with some well-timed, or perhaps we should call them challenging, rains. Overall, rainfall had been reasonably plentiful for 2015, albeit very slightly below average (4%) at 959mm, so the vineyard was well enough watered and we were generally pleased with our weed control.
Flowering conditions weren't perfect, with 2 cold, wet days right in the middle of the Pinot Noir process. However, the real challenge came when she blessed us with 106mm of rain on 18th January. Wet weather at that time of year is not unheard of in Margaret River but the probabilities are relatively low, with the last event on that scale being in January 2000. Sometimes we get lucky because the timing meant the berries had only just begun to soften. Had the rain come a week later, the risk of splitting and therefore disease would have been much greater. We were very relieved!
Beyond this, the season was typical. Flowering was on 2nd November, roughly one week ahead of average and the picking date of 10th February, gave a season length of 99 days, 2 days faster than normal. We suspect this was because the vines had a bit less ripening work to do, with the crop level of 4.43 tonnes/ ha being 30% lower than average.
Production Notes
At harvest time, the technique was classic Moss Wood. The fruit was hand harvested, destemmed, apart from an inclusion of 5% whole bunches and placed into small, open fermenters. The must was chilled to 8°C and allowed to soak for 48 hours, after which it warmed to ambient temperature and was seeded for fermentation with multiple yeast strains. All tanks were hand-plunged 3 times per day. Each batch was tasted daily to monitor tannin extraction and balance and pressed after 18 days on skins.
After pressing, each batch underwent malolactic fermentation in stainless steel and they were then racked to wood in the second week of March 2016. All barrels were 228 litre French oak barriques, and 17% were new.
On 3rd November, 2017, all the barrels were racked to stainless steel and fining trials were conducted on the final blend. In what is a very rare thing, we decided the wine was improved using a very small dose of gelatin, making it the first and only Moss Wood Pinot Noir treated with that agent. It was sterile filtered and bottled on 13th November, 2017.
Cellaring Notes
As is typical with our Pinot Noir wines, the 2016 has generous fruit flavours that are immediately enjoyable, so it is delicious if drunk now. Nevertheless, it has the necessary complexity and structure sitting underneath to keep it going for decades. To allow the wine to show some bottle age, we recommend cellaring for a minimum of 10 years while full maturity should be reached around 20 years of age.