Moss Wood 2017 Pinot Noir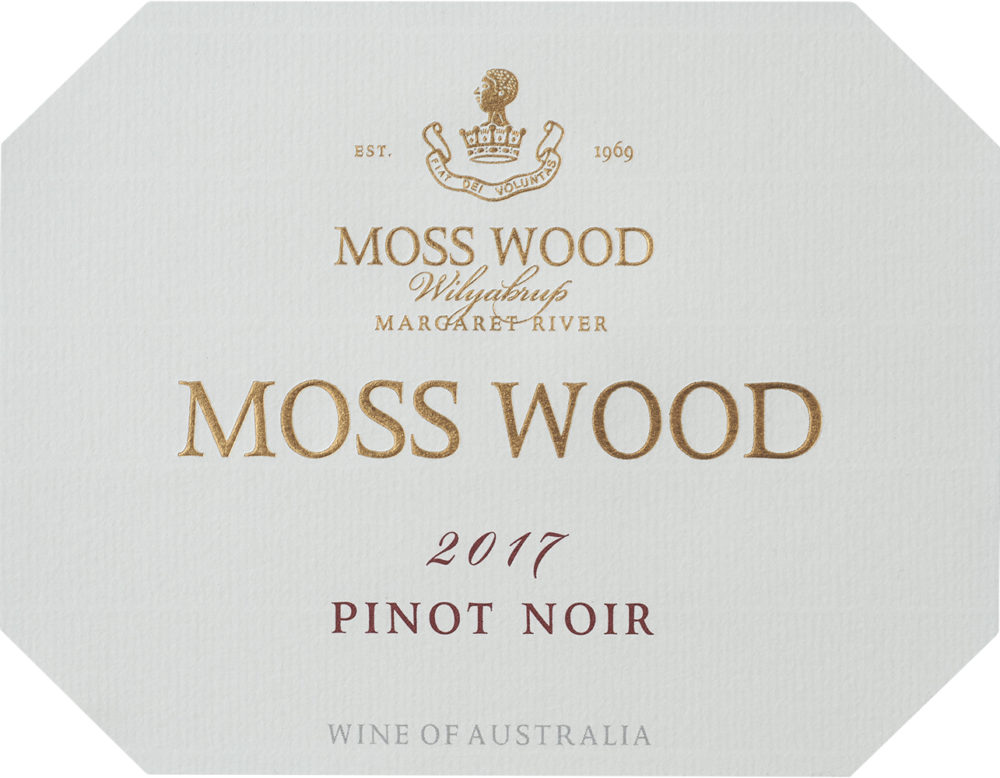 Wine Facts
Median Harvest Date - 9th March, 2017
Harvest Ripeness - 13.6°Be
Yields - 6.95 tonnes/ha
Weather Data
Growing Season Ave Temperature – 19.34⁰C
Number of hours accrued between 18 and 28⁰C – 993
Number of hours above 33⁰C – 34
Days Elapsed Between Flowering and Harvest - 104 days
Bottled 08/11/2018
Released 01/09/2019
Alcohol 14%
The 2017 Pinot Noir is a 50-50 blend of the two clones planted at Moss Wood: D4V2 and D5. Minty notes accent delicate red fruit on the nose of this light to medium-bodied offering. Silky and fine on the long finish, it should drink well for at least another five years. Published 9th Jan…
Read more
When Dr John Gladstones first published his climate research in 1965, he proposed the as yet unplanted Margaret River area as being suitable for the production of high quality table wine.  The consistency of its maritime climate suggested it would be especially good for the Bordeaux varieties, in particular, Cabernet Sauvignon and this made up the vast majority of the early plantings.
However, the pioneers of the region, like Moss Wood founders Bill and Sandra Pannell, approached the new venture with open minds, without the blinkers of existing traditions.  Margaret River was a blank canvas and they were determined to try other noble varieties and took two important decisions.
Firstly, going against the trend of the time, they chose not to plant Riesling, believing, quite correctly as it turned out, it needed a more continental climate to make the best wine.  Places like the Clare and Eden Valleys in South Australia or the Great Southern region of Western Australia have proven themselves far more suitable.
Secondly, they were very interested in white and red Burgundy, so planted Chardonnay and Pinot Noir.  It's now a matter of history the former has made itself very much at home in our area but until recently, the latter has been something of an enigma.
Since they grow side by side in Burgundy, it makes perfect sense that Pinot Noir should do well, yet Chardonnay has been the show pony.  Is there a simple explanation?  Although Chardonnay has a tendency to suffer low yields as a result of our mild, damp Spring, it really loves the Summer and Autumn and has consistently made wines of international style and quality.  Pinot Noir, on the other hand, hasn't quite had the same success.
We believe there are several threads to the answer to both production and marketing.
Quite simply, Pinot Noir is not as easy and forgiving to make.  It is far more sensitive to vineyard techniques, requiring good fruit exposure and lower yields to achieve quality results.  In the winery it is also fussy and needs to be fermented and aged in the correct way.  This applies wherever the variety is grown and even in its ancestral home of Burgundy it can be notoriously inconsistent.
Such quirky behavior means consumers have been cautious about purchasing Pinot Noir and it has tended to be sought out by wine nerds prepared to accept its recalcitrance in return for the occasional outstanding bottle.  Over the last decade, things have begun to change.  The variety is now quite widely planted around the world, with many more winemakers chasing the Holy Grail and the general quality of wine has improved.  With this has come much stronger consumer acceptance and Pinot Noir is now a mainstream variety.
In Margaret River, it is not and never has been widely planted.  The initial success of Cabernet Sauvignon, meant Pinot Noir was not an attractive choice for many growers, especially given the specialised inputs required in vineyard and winery.  Consequently, the wine never achieved the same market penetration or critical acclaim, despite the early success of wines like the Moss Wood 1981 Pinot Noir, thought by many to have been the best Australian Pinot Noir produced up to that point.
Nevertheless, at Moss Wood we have always believed in the quality of our wine and have been very happy to keep producing it, even when the idea of a Margaret River Pinot Noir was anathema to some.  We can now point to vintages that have aged beautifully for more than 35 years.  Importantly, in the modern wine market, it's not just nerds who drink it and, in this era, consumers are very happy to consume good Pinot Noir from anywhere, with no preconceived bias.
What remains an important part of the Pinot Noir world is the amount of debate the variety creates.  Yes, it's fussy but this is its great attraction because it produces such a broad range of styles which can polarise opinion.  The variations that occur between producers and regions are enormous and lead many critics to opine as to which is best.  The answer, of course, is there are numerous opinions and all are correct because beauty is in the eye of the beholder.  These debates are at their most intense late in evening after the participants have enjoyed several good bottles with dinner.
Vintage Notes
Turning our attention to the Moss Wood 2017 Pinot Noir, how does it compare with the 39 vintages that have preceded it?  The answer is, among the very best and almost a twin for the great 1990.  It's pure coincidence, of course, but the similarities are remarkable.  This also means it was a near-copybook season.  Flowering was a little over 1 week behind average on 22ndNovember and during this period we had rain on several occasions but none of it heavy and minimum temperatures were mild, rarely dropping below 8°C.  Through the rest of the season we had further rains but once again the timing was good, most of it coming before the grapes began to soften.
Temperatures were generally mild and the vineyard received only 34 hours above 33°C.  The hottest day of the Summer was a very comfortable 36.9°C on 4th January.  These conditions were near perfect for ripening, albeit somewhat slowly and the Pinot Noir casually strolled into its median harvest date of 9th March, 14 days later than average, with a ripeness of 13.6° Baume, very slightly above its average of 13.4.  The yield was 6.95 tonnes/hectare, very slightly above the average of 6.40.
Production Notes
The fruit was handpicked and delivered to the winery where it was destemmed into small, open fermenters.  The must was chilled and allowed to soak for 48 hours and was then inoculated with multiple yeast strains for primary fermentation.  Fermentation temperatures were kept to a maximum of 30°C and each batch was hand plunged 3 times per day.  After 18 days on skins the must was pressed to stainless steel tank and underwent malolactic fermentation and once completed, the finished batches were racked to wood.  All barrels were 228 litre French oak and 10% were new.
After 19 months in wood, all barrels were racked and blended in stainless steel and fining trials were carried out.  None were found to improve the wine so it remained unfined.  It was then sterile filtered and bottled on 5th November, 2018.
Tasting Notes
Colour and condition:
Medium to deep ruby hue; bright condition.
Nose:
Lifted aromatics of strawberry, quince jelly, roses and cherries.  In the background there is an array of Pinot's complex notes – earth, cumin and mushroom.  There are also light, toasty oak notes.
Palate:
The palate has medium to full body with bright fruit flavours.  Strawberries, cherries and dark jubes sit over a firm tannin, so the wine has excellent balance; it is lively and intense without being heavy.  The performance is completed with some toasty oak on the finish.
Cellaring:
We mentioned above that this wine has many similarities to its 1990 sibling and having tasted that very recently we confidently predict the 2017 will develop beautifully in the cellar for at least 30 years.  The only problem for customers may be keeping their hands off it for that long.  The bright and generous fruit notes make it a very enjoyable youngster and it should retain those for a least the next 10 years.