Moss Wood 1993 Pinot Noir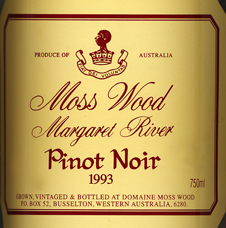 Wine Facts
| | |
| --- | --- |
| Harvested: | 2/3/1993 |
| Bottled: | 16/12/1994 |
| Released: | 20/10/1995 |
| Yield: | 8.20 t/ha |
| Baume: | 13.30 |
| Alcohol: | 14.00% |
| Vintage Rating: | 8/10 |
SOLD OUT
---
Tasting Notes
The 1993 Moss Wood Pinot Noir is a medium to deep ruby red hue with spicy red berry, perfumes, some strawberry, plummy flavours with hints of earthy, gamey characters giving it greater complexity. It is quite a fine red: medium-bodied but intense, with a generous structure, ripe, sweet fruit and soft, round tannins. This is a rich, round flavoursome wine which is well-balanced and lively with an attractive smokey finish that lingers.
The wine is lighter in frame than the two previous vintages but does not lack intensity of flavour. However, we prefer the 1992 and 1994 Pinots as riper, more complex wines.
Vintage Notes
The 1993 vintage was quite different from that of 1995 with the mild summer allowing the vines a slow ripening period so that it was possible to get good fruit ripeness without high levels of alcohol. For all that, the wine did achieve 14% alcohol but with plenty of fruit and lift to balance it.
The vinicultural technique for Pinot Noir at Moss Wood has become pretty standard after several years spent refining the approach.
Production Notes
The grapes were picked and then crushed with one-third retained as whole bunches. Fermentation on skins took twelve days. All pressings were included in the blend straight away and this was held in stainless steel until the wine had undergone its malolactic fermentation. It was then racked into barrels where it remained for 12 months. Although one-third of the wine was placed in new casks, oak does not play a major part in the style of the Moss Wood Pinot which is more influenced by fruit intensity. Before bottling, it was given a light filtration but no fining.
Cellaring Notes
The 1993 Pinot is a good wine which has good ageing potential, and can be cellared for at least ten years.