2010 Moss Wood Pinot Noir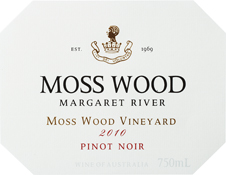 Wine Facts
| | |
| --- | --- |
| Harvested: | 22/2/2010 |
| Bottled: | 19/12/2011 |
| Released: | 2/9/2013 |
| Yield: | 6.8 t/ha |
| Baume: | 13.30 |
| Alcohol: | 14.00% |
| Vintage Rating: | 9/10 |
SOLD OUT
---
Tasting Notes
Colour: Bright condition; medium ruby hue.
Nose: A bright combination of strawberries, strawberry jam, cherry and spice, enhanced by an ethereal rose-like lift. It is also complex, with soft oak, earthy and tarry notes.
Palate: The feel is rich and bright; medium to full body combined with bright strawberry and cherry flavours and then a long finish of earthy notes and well balanced tannins.
Vintage Notes
As we look back at the 2010 vintage, it's hard not to be nostalgic. There haven't been many better years than this and it is gradually becoming recognised as a Margaret River classic. Like others of the same ilk, 1980, 1985, 1990, 1995 1996, 2001 and 2005, it was equally good for whites and reds. This reflects all the positives of the growing season. Not only did we get good rainfall, it came during periods when it did least harm. There was consistent warmth but very little extreme heat and so the vines ripened steadily and retained bright and complex fruit aromas.
With so many things in its favour, it comes as no surprise that crops were above average as well. This is not a concern with a variety like Cabernet Sauvignon which, in our view, makes some of its best wine in these years, with better tannin balance, in particular. On the other hand, Pinot Noir is more sensitive to high yield and can produce wines with reduced concentration, resulting in lighter colour and softer tannin. In a variety where these characteristics are already "lighter" this may not be a good thing and requires careful attention to detail.
There are several techniques for managing yields but at Moss Wood, we have focused mainly on two – bunch thinning and "saignee", which is the French term for draining juice off the skins to improve colour and flavour.
The both techniques involve a combination of science and guess work. With the former, we sample the vineyard to estimate the number of bunches each vine has and then use our historical data to estimate yield based on the likely range of bunch weights. If the potential yield is deemed too high, then we carry out a "green harvest" by going through the vineyard and dropping a calculated number of bunches from each vine. This has to be done at a point in the season where the vines won't respond by increasing the size of the berries. Overall, the lack of accuracy means this technique is something of a blunt object – a bit like using a large sledge hammer to drive in a tack. This being the case, we combine it with the second technique of juice removal.
Once the fruit is picked and sitting in the tanks, we know exactly what our quantities are and can work out with some precision what volume of juice we would prefer. We know from our history what the best ratio of skins to juice is and we attempt to match that. It would be foolish to think of this as scientific, because we can't know beforehand what the actual levels of all the key components are and it follows that we can only guess the likely impact of increased concentration will have.
It could all be viewed as part of the wonderfully artistic side of winemaking and one thing's for sure, in the lower crop years, whether naturally occurring, or by man-made technique, we have always made Pinot Noir wines of greater depth and intensity.
If we contrast the 1981 and 2000 vintages, this is held in stark relief. The '81 was a very small crop (3.48 tonnes per hectare), and had intense fruit aromas and flavours and is still the best wine we've made. The 2000 was a very big crop (11.42 tonnes per hectare) and has bright fruit notes and reasonable length but nothing like the overall depth of the earlier year.
Returning to the 2010 vintage, we calculated a yield estimate that suggested the vineyard would yield between 8 and 9 tonnes per hectare. With a small green harvest and then juice removal we brought it back to an equivalent of 6.8 tonnes per hectare, slightly above the long term average of 6.5 tonnes. As we said, this is not an exact science but we got close.
The season was almost exactly average in length, with a ripening time from flowering to harvest of 104 days, slightly behind the average of 100 days, while the median harvest date was 22nd February, 2 days later than the average of February 24th. We've saved the best of the climate-related bits for last. The really positive part of the growing season was the temperature. Both January and February were mild, with mean temperature of 20.23oC and 20.79oC, respectively, but the best number of all was the overall lack of extreme heat - the Pinot Noir accrued only 24 hours above 33oC. While this would not be good for Cabernet Sauvignon, it is ideal for wines with more delicate fruit aromas like the whites and, of course, Pinot Noir and hence is a major part of the explanation for 2010 being such a good vintage, across the board.
It is also nice to report we had no disease outbreaks in the vineyard and had a good Redgum flowering and so the birds used the blossom as a food source, not our grapes.
Production Notes
Median Harvest Date and Ripeness:
22nd February, 2010; 13.3o Baume
As is always the case with Moss Wood wines, the fruit was hand-picked and delivered to the winery where it was de-stemmed into small, open fermenters. The must was cooled to 10oC and allowed to macerate for 2 days, then it was seeded with a pure yeast culture for primary fermentation. Ferments progressed at a maximum temperature of 30oC and were hand plunged 3 times per day, for extraction of colour and flavour. Each batch was tasted twice per day, to monitor tannin balance and eventually the decision was made to press each batch after 2 weeks on the skins.
Once pressed, the wine settled in tank and was inoculated for the malolactic fermentation which went through over 2 weeks. When completed, each batch was racked and adjusted for acidity and sulphur dioxide levels and then put into oak. All barrels were French and 20% were new.
The wine stayed in barrel until October 2011 when it was racked and blended. Fining trials were then carried out but none improved the wine so it was left unfined. It was then sterile filtered and bottled on 19th December, 2011.
Cellaring Notes
Once again the Pinot Noir provides a dilemma. There is great drinkability in this young wine with its excellent balance and fruit depth, but it is this depth and complexity that give it the style and structure to go the distance. It will take at least 10 years to build its bottle bouquet, so it has a recommended cellaring time of 15 years. Beyond that, it should cellar well for at least a further 10 years.