Moss Wood 1997 Pinot Noir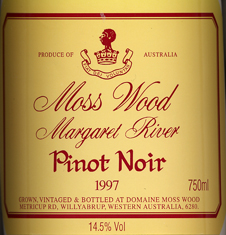 Wine Facts
| | |
| --- | --- |
| Harvested: | 1/3/1997 |
| Bottled: | 11/8/1998 |
| Released: | 6/9/1999 |
| Yield: | 6.00 t/ha |
| Baume: | 14.30 |
| Alcohol: | 14.50% |
| Vintage Rating: | 8/10 |
SOLD OUT
---
Tasting Notes
The 1997 Moss Wood Margaret River Pinot Noir has attractive ripe strawberry, plum and spicy cinnamon perfumes; is soft, round and generous, with a silky texture; rich, concentrated sweet fruit of dark cherries and plums and some complex savoury characters that are earthy, gamey and mushroomy. The acid and tannin structure is firm giving the wine good length and the promise of long life.
It is one of the better Moss Wood Pinots, especially as the crop reduction has concentrated its flavours. There was similar crop damage in 1981 although that wine had a character all of its own. We see this as being the Moss Wood style and ranks it with the 1990 and 1991 wines.
Vintage Notes
The 1997 vintage was as difficult as that of 1999 was good: summer contained all four seasons; wet and dry; hot and cold. Moss Wood experienced the heartbreak of massive crop reductions because of wind and hail damage with more than half the pinot crop lost. As you would know, pinot noir enjoys ripening a small crop so the lack of quantity was made up for by a corresponding improvement in concentration of flavour. We thought that there might have been a serious problem with ripeness as it rained heavily three weeks before harvest. Fortunately, the grapes did not split and disease was not a problem so ripening continued uninterrupted. The pinot was picked in sound condition at normal levels of ripeness.
Production Notes
The wine was produced in the traditional manner of Moss Wood: it was placed into fermenters with twenty per cent whole bunches added, then chilled to 12°C for three days for cold maceration and then allowed to warm to ambient temperature. The juice was inoculated with pure yeast and fermentation took place at about 30°C. Each ferment was hand plunged four times a day. At dryness, it was tasted so that the tannin structure could be monitored. Pressing took place after 14 days on skins. The wine was settled in stainless steel then racked to barrels where it stayed for 22 months. As usual, a third of the 225 litre French barriques were new. After its oak maturation, the wine was given no fining, only a very coarse filtration to remove any solids, and was then bottled through a delicate silk stocking.