Moss Wood 2004 Pinot Noir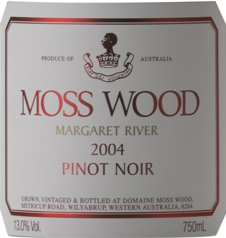 Wine Facts
| | |
| --- | --- |
| Harvested: | 15/2/2004 |
| Bottled: | 14/11/2005 |
| Released: | 19/10/2006 |
| Yield: | 3.52 t/ha |
| Baume: | 13.00 |
| Alcohol: | 13.00% |
| Vintage Rating: | 9/10 |
SOLD OUT
---
Tasting Notes
The wine has deep ruby colour and its condition is bright. The nose is a complex array of fruit aromas including cherry, plum and roses, with a background of mushroom, charry oak and cinnamon spice. The palate has bright red and dark fruit flavours that fill the mouth but the texture is quite delicate with medium Moss Wood 2004 Pinot Noir body. The result is a fine, lingering flavour with rounded tannins from both fruit and oak that give backbone and length.
Vintage Notes
The 2004 vintage provided some interesting moments for the vineyard and winery crew. The growing season was largely unremarkable, with mild, even temperatures and moderate rainfall and no serious problems to speak of. A heat spike in mid-March caused some issues for the Cabernet Sauvignon but the Pinot Noir was well and truly harvested by then. Our main concern with this variety is to ensure that it does not over-crop. When it does, colour in particular can be too light. To avoid this problem, crop estimates are done regularly during the season by determining the average number of bunches per vine and then applying an estimated average bunch weight to calculate the crop. All very simple really, although it is more art than science because the average bunch weight can only be an estimate. This is based on how good we assume the flowering conditions to have been. Fortunately in most years we are spot on, but in others, like 2004 or 2000, we prove we are only human. In 2004, we estimated the bunch weight of the "Droopy" Pinot Noir to be close to the average of 100 grams. It actually came in at 144 grams or 44% more crop than we expected
Production Notes
Once in the winery, a bigger crop requires a slight change to the technique. The best way to ensure good colour is to drain off a percentage of the juice. If wineries carry out this process, they will occasionally ferment the drained juice and sell the resulting wine as a lightly coloured rose. It can also be used for sparkling wine base. At Moss Wood our inexperience with both these wine styles didn't give us any confidence, so we removed 20% of the volume but the spare juice went down the drain. After this the technique returned to normal and the fermenters were chilled down to 10C for 48 hours, the juice pumped over once per day. The juice was then warmed up to 18C, seeded with pure yeast culture, and fermented at 30C with hand plunging 4 times per day. Once fermentation passed 0 Baume each batch was tasted twice daily until the right tannin balance was perceived and then the wines were pressed and racked to stainless steel for settling on gross lees. The wine was racked off gross lees into barrels where it stayed until it completed malolactic fermentation. It was then racked to stainless steel, analysed, adjusted for acidity and sulphur dioxide and returned to barrel. Barrel aging continued until October 2005 after which the wine was racked to stainless steel and fining trials were carried out. No finings were considered necessary, so the wine was sterile filtered and bottled on 15th November 2005.
Cellaring Notes
In comparing the wine with recent vintages, it combines the finer fruit characters of the 2002 with the riper, slightly bigger palate of the 2001 and probably most resembles wines like the 1995 and 1986. That being the case, we are confident about its aging ability and recommend that those who have the opportunity to cellar the wine should do so for at least ten years. This will see the wine